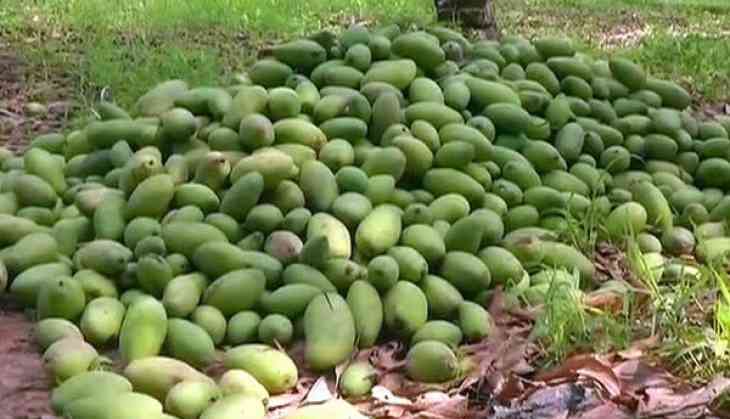 The dust storm that hit North India on Sunday has caused a massive damage to mango harvest in various parts of the region, leaving farmers in a hapless condition.

Farmers in Uttar Pradesh's Lucknow recalled the loss incurred by them for the storm and said, "We've suffered a huge loss as 40% of mangoes are damaged, it can be only used to make pickle. All farmers & planters are left in the lurch. Mangoes are the only source of income for us."
Mangoes that were ready for harvesting were damaged in the rains and hailstorm.
"Spots were left on the mangoes due to the hailstorm. These mangoes would be now sold at Rs 1 or 2. It could only be used for making pickles. These mangoes are completely useless now," another farmer said.

Farmers said that their entire year was dependent on this harvest, and now that the mango harvest was damaged, there was no way in which the loss could be redeemed. They said, "Had the storm hit even after 10 days, we would not have suffered such a huge loss. The entire year we work the hard and a natural calamity destroys everything in one night."

"We cannot sleep at night during storms, and when we reach the fields after the storm, it makes us cry, we had previously also suffered due to the storm, but this time the damage was massive. It's a very unfortunate situation, we cannot say what we are going through right now," another farmer said. "The storm will continue for the next 48 to 72 hours," said Charan Singh, Scientist, Indian Meteorological Department (IMD).

As per IMD, several parts of Delhi including other cities like Rohtak, Bahadurgarh, Bhiwadi, Sohna, Palwal, Jhajjar, Manesar, Gurugram, Ballabhgarh, Faridabad, Aurangabad, Aligarh, Sonipat, Bagpat, Noida, Greater Noida, Meerut, Ghaziabad will witness the same change in weather today.
ANI