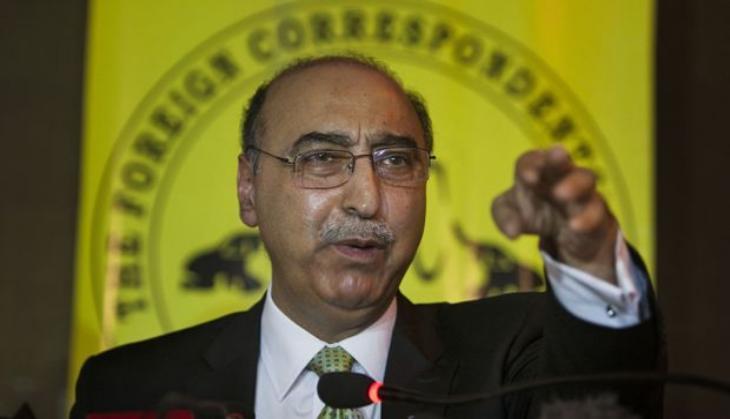 Bharatiya Janata Party (BJP) leader Subramanian Swamy has slammed Pakistan over its High Commissioner Abdul Basit's statement about the suspension of peace talks between the countries. Swamy alleged that the "dummy government in Islamabad" always looks for excuses to halt talks with India.
"It's very good that whatever we wanted to show to the world, we have shown that Pakistan civil society, the so-called elected government is a dummy government and it cannot keep its word and it will always find some excuses," Swamy said.
"And so they called it off because their JIT came, they found proof with India was so strong that if they were allowed to have it cross-checked in Pakistan then they would have no stand internationally," he added.
Swamy said the Pakistan High Commissioner should be asked to go back and the Indian High Commissioner in Islamabad should be called back.
"Now my opinion is that we have demonstrated to the world that how cooperative we can be, but in Pakistan there is no civilian government there it's all military and terrorist government," he added.
The BJP leader further said Islamabad has proved to the world that they are an unreliable and an incurable liar. "There is no use in saying that Pakistan is not keeping its word. It was a mistake on our part to think otherwise, we just wanted to show to the world that Pakistan cannot keep its word. So, if anyone thinks that Pakistan can keep its word than it's a mistake. So, we have proved to the world that Pakistan is an unreliable and an incurable liar," he added.
The Pakistan High Commissioner had, on 7 April, had alleged that Pakistan wanted peaceful relations with India but found the latter to be noncooperative. Hinting that the NIA will not be given access to JeM chief Masood Azhar for the probe into the Pathankot attack, Basit said the dialogue with India has been suspended as there are no plans for the Foreign Secretaries to meet.
Basit created a stir by stating that Pakistan's Joint Investigation Team's (JIT) visit to India to probe the Pathankot terror attack was not based on reciprocity - the complete opposite of what the Ministry of External Affairs (MEA) said.
MEA official spokesperson Vikas Swarup said, "We have seen comments by the Pakistani High Commissioner on the visit of the JIT team to investigate the terrorist attack on the Pathankot Air Base that have reference to reciprocity. The MEA would like to clarify that on 26 March, 2016, before the visit of the JIT, the Indian High Commission formally conveyed to the Pakistani Foreign Ministry that the Terms of Reference 'are broadly agreed to with the proviso that these would be on the basis of reciprocity and followed in accordance with extant legal provisions."