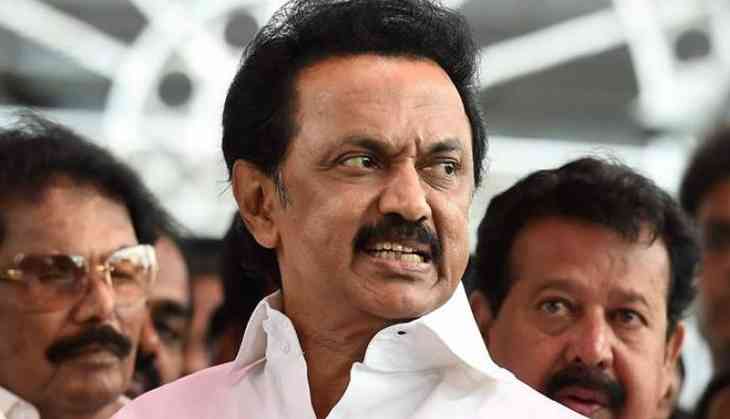 Highlighting the Good and Services Tax (GST) impact on the entertainment industry, the Dravida Munnetra Kazhagam (DMK) on Thursday urged the Central Government to roll back 30 percent entertainment tax.
DMK leader M.K. Stalin stressed that the film industry is suffering due to the new tax reform.
"After GST and entertainment tax, film industry is suffering. They are in shock and have also called for strike. So we demand that 30 percent entertainment tax should be rolled back. It is like a double tax for the film industry," said Stalin.
Theatre owners across Tamil Nadu have started an indefinite strike against the imposition of 30 per cent entertainment tax in addition to the 28 percent Goods and Services Tax (GST) on film trade by the state government.
Yesterday, Tamil Nadu Theatre Owners and Distributors Association president Abhirami Ramanathan said that this double taxation was making things hard for the film industry.
"When PM Modi stated that it's one nation one tax we were happy. But local body tax has hit us severely. We have to pay 60 percent tax. How will production happen? We are unable to survive," he said, on the third day of the theatre owners' indefinite strike.
Adding, "We presented our demand before the Chief Minister and other ministers. They have considered all our requests. We are expecting a good decision by evening. We demand roll back of local body tax and increase in ticket price. We, as industry, are speaking in one voice."
For the unversed, over and above the recently hiked Goods and Service Tax (GST), the Tamil Nadu government has imposed a 30 percent local body tax on the Kollywood industry, which means, a Rs 100 ticket will have 18 percent GST; and for tickets above Rs 100, the GST will go up to 28 percent, plus 30 percent as local taxes.
As a result, nearly 1060 theatres across Tamil Nadu have shut down from July 3, to protest against the 'double taxation' imposed by the state government.
Expressing his concern over the same, thalaiva Rajinikanth requested the state government to consider the plea to abolish local body tax.
Earlier, the entertainment tax was levied by states and the rates ranged from 0 to 110 percent, with an average of 30 percent.
-ANI