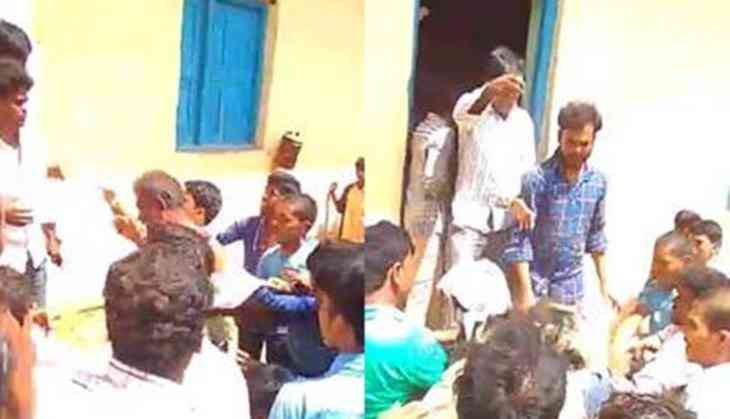 In a horrific incident, five men were brutally beaten to death by villagers turned into 'mad mob' i Maharashtra's Dhule district on Sunday afternoon, on suspicion of being child kidnappers. Reportedly, five men among the group of 7-8 people were allegedly assaulted by the mob at the tribal Rainpada hamlet in the district's Sakri tehsil, 330 km from here. Cops have registered the case and 23 people have been held on Monday in connection with the case. The mob that attacked them reportedly comprised over 35 people, including some children.
"Preliminary reports suggest that the group of men were seen disembarking from a State Transport bus. When one of them attempted to speak to a girl child, a crowd which had gathered for the Sunday bazaar mistook the strangers for child-lifters and swooped upon them," said a police official, adding that rumours of a gang of child-lifters on the prowl in Sakri prompted the mob to vigilante action.
All the accused held are in their 20s and residents of Rainpada have been sent to four-day police custody. "The accused hail from a tribal village where WhatsApp posts pertaining to child kidnappers had gone viral. Based on the posts, the mob suspected the victims to be child lifters and thrashed them to death," M Ramkumar, Superintendent of Police, Dhule, told The Indian Express.
Purported video clips of the incident showed the victims being thrashed with slippers, before being dragged to the Rainpada gram panchayat office, where they were beaten up with sticks and other objects. The person shooting the video can be heard warning the victim, "tujhe marega phirse (I will hit you again)".
Also read: Mumbai: Shocking! 37-year-old Italian woman allegedly raped by a tour guide in a cab in Juhu; 'Zero FIR' lodged, probe underway