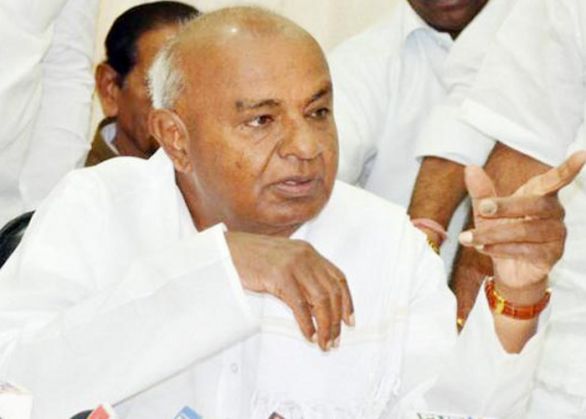 Speaking to reporters on the aftermath of the Speaker's decision to suspend 25 Congress MPs from the Lok Sabha, former Prime Minister H D Deve Gowda on Tuesday, 4 August, blamed both BJP and Congress for the logjam in Parliament. The JDS supremo said both parties should realise that confrontation would not solve the problem.
"This type of situation has arisen in the past, we have seen those things. The confrontation will not solve the problem. Both the national parties are responsible. I'm not going to comment on the Speaker; if the Speaker's decision is going to be disrespected by any group or any party, then Parliamentary democracy itself is going to be shamed. I don't want to disrespect the ruling of the chair in my life," he said.
On the logjam in Parliament, Gowda said the way Parliament is functioning is not good and both the parties have to understand this.
"Issues should be raised, discussed and people who have elected us are there to decide. People have given their verdict on the way one national party functioned during the elections and they will decide on the other now in the government on the basis of how it functions. Leave it to them, please don't disrupt the house," he opined.
Stating that many issues that should be immediately addressed have not come to the forefront due to the logjam in Parliament, Gowda said, "I wanted to discuss the increasing number of farmer suicides in Karnataka since day one, but got no chance."
He also demanded Prime Minister's immediate intervention to build confidence among the farming community, including announcing of a moratorium on recovery by scheduled banks.
-PTI