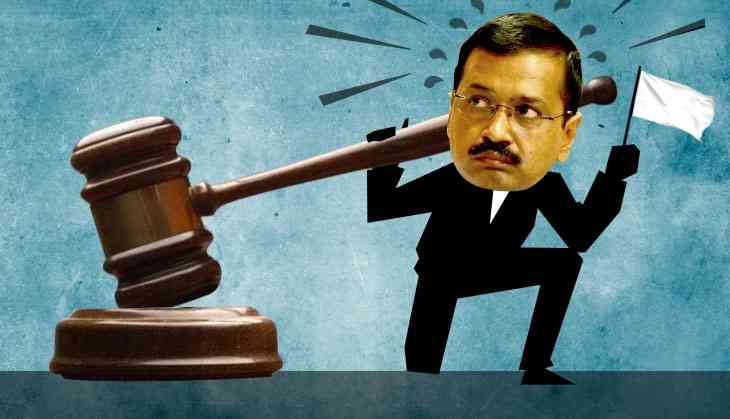 In a setback for the Delhi CM Arvind Kejriwal, the Supreme Court's judge AK Sikri has held that Anti-Corruption Branch will be controlled by the Central government and Delhi government have no policing power over it.
Justice Sikri has ruled that under the Commission of Inquiry Act, Central Govt is the appropriate Govt and Delhi Govt lacks powers.
However, Delhi Govt has powers under Electricity Act to appoint directors etc.
Justice Ashok Bhushan has agreed with Justice Sikri, except on the 'Services' issue.
Justice Sikri has further held that transfers of posting of Joint Secretaryy and above are domain of L-G and rest can be controlled by Delhi Govt. In case of difference of opinion, view of L-G to prevail.
Justice AK Sikri holds transfers of posting of Joint Secretary&above officers are in the domain of LG while other officers fall under Delhi govt, however, in case of difference of opinion, view of LG to prevail. Anti Corruption Bureau to come under LG.

— ANI (@ANI) February 14, 2019
It was the Supreme Court, in July 2018, which held that elected government of Delhi holds more power than that of the L-G and the five-judge bench was headed by then CJI Dipak Misra.
The ambiguities had surrounded the judgement as lawyers of both the parties involved interpreted it in their own manner and hence, a PIL was again filed in the court and a bench headed by Justice AK Sikri will announce the verdict, that will put a long-raging battle over jurisdiction of the CM vs L-G to an end.
In a battle over Constitutional powers and interpreting it in the right manner, the Delhi CM has hoped that it is the elected government which holds an upper hand in deciding upon the transfers of the officials.
Also read: Delhi CM vs L-G: Supreme Court to pronounce verdict on power tussle in Delhi, will decide if Arvind Kejriwal is