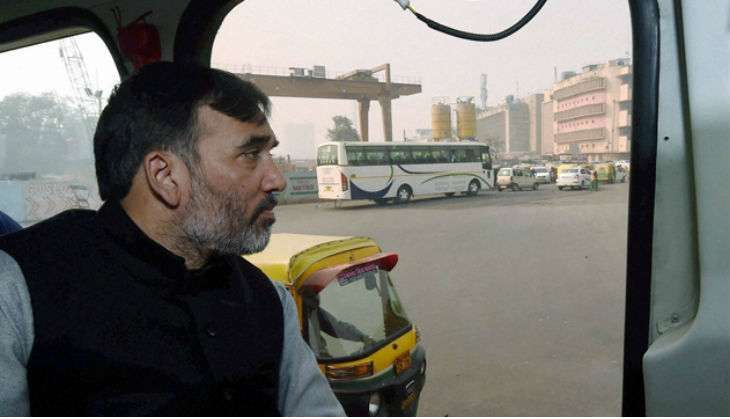 Delhi Transport Minister Gopal Rai on 14 June submitted his resignation. The Aam Aadmi Party leader has cited health grounds for resigning from his post.
Satyendra Jain, who is PWD and Health minister, will now take charge of Transport ministry, reported ANI.
Last week, Rai requested Chief Minister Arvind Kejriwal to relieve him from the responsibility of Transport Department on health grounds as he had recently undergone a major surgery.
Jain, who is known to be close to Kejriwal, already holds key portfolios of PWD, Health, Power and Home. The departments left with Rai now include Labour, Irrigation and Flood Control, General Administration Department (GAD), Development and Employment.
"The Lt Governor of National Capital Territory of Delhi with Chief Minister of National Capital Territory of Delhi is pleased to allocate portfolio of Transport Department to Satyendar Jain, Minister," a notification issued by GAD yesterday said.
Jain had temporarily taken care of the transport department for about 20 days when Rai had gone under a surgery to get a bullet removed from his neck and then physiotherapy treatment in Hyderabad.
Rai yesterday said he had requested the Chief Minister to relieve him from the Transport Department portfolio as it had a very heavy workload.
Gopal Rai was slated to go to the Anti-Corruption Branch (ACB) today to discuss the corruption allegations levelled against him in the app-based premium bus service scam. The minister on Monday had said that he is ready to go to Tihar Jail if the allegations against him are proven correct.
"If they can prove even Re 1 worth of corruption in the scheme, I am ready to go to Tihar," the Indian Express had quoted Rai as saying.
According to a PTI report, Rai addressed a press conference on 13 June and said that he along with officials of the Transport department will go to the ACB office on 14 June and ask the agency what corruption they have unearthed, despite the fact that the scheme is yet to be launched.
"No corruption took place in this scheme. The decision to notify the scheme was taken after several rounds of meetings and the agenda was tabled before the cabinet after proper discussion," the Transport minister told reporters.
-With PTI inputs.