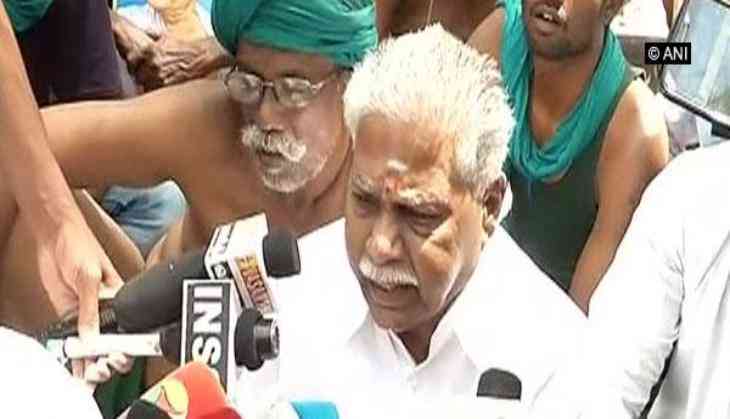 Tamil Nadu Agriculture Minister R. Doraikkannu, on Tuesday apprised the agitating farmers, who have been protesting at Jantar Mantar for the past 15 days demanding a drought relief package from the Centre and farm loan waive, that steps has been taken by the government to address their problems.
"We have put demands of the farmers for creation of Cauvery management board and waiver of bank loans before the Centre," Doraikkannu told the media.
M. Thambidurai, who visited the agitating farmers today for a second time, assured them that the issue would be placed before Prime Minister Narendra Modi at the earliest.
"We heard their demands. Requested time for meeting with the Home Minister and Agricultural Minister," said Thambidurai after meeting protesting farmers.
Cutting across the political spectrum political leaders from the state have offered their support to the farmers who have been protesting at Jantar Mantar for the past 15 days.
The farmers are expected to meet Union Minister for Agriculture Radha Mohan Singh and Finance Minister Arun Jaitley in the evening. DMK MP Tiruchi Siva is expected to accompany the farmers.
Meanwhile, Farmers from Tamil Nadu stage a protest at Jantar Mantar by holding living mice in their mouths to demonstrate that they will have to feed on them if the government fails to declare drought relief packages and waiver loans for the farmers from the state.
A farmer dressed up as a corpse, while the others, dressed in green loin cloth or green petticoats, mourned his "death" and blew conches.
The farmers have been in the national capital for over two weeks, demanding that their loans from nationalised banks be forgiven, fair and just prices be set for their produce and to come up with realistic solutions to the water scarcity in the state.
-ANI