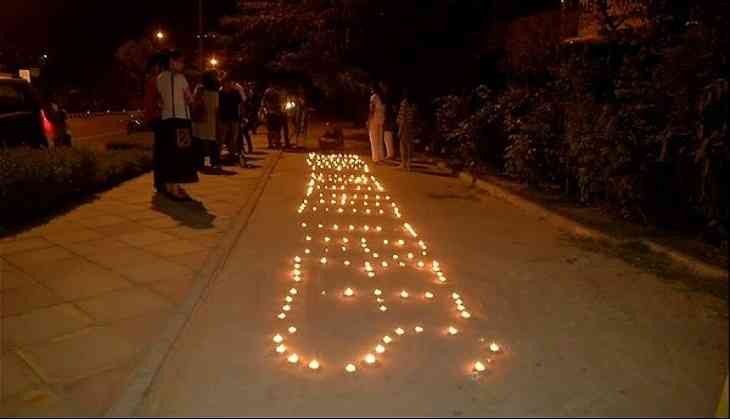 In order to save cutting of over "14000 trees" under the south Delhi redevelopment project, a protest was carried out by locals in the national capital on Friday night.
This comes at a time when the current average pollution level of Delhi is already at 300 Air
Quality Index which falls in the category that risks life and limb of people.
Held under the "Delhi Trees SOS" campaign, the protest was called to aware people about the redevelopment project and urge government to avoid cutting trees for the same.
"We are citizens of Delhi, who have formed this Delhi SOS initiative. We want to tell that it's so stupid on half of the authorities to cut trees at a time when the weather of Delhi has been severe since last two years. Trees are very important to us. The government is saying that they will compensate by putting plants near Wazirabad bridge. We don't think it's a good idea," Juhi Saklani, a member of the campaign, told ANI.
The protest kicked off at the Sarojini Nagar area.
On similar lines, a public interest litigation (PIL) was filed in the Delhi High Court against the same developmental project.
The petitioner claimed, "Permission was granted incorrectly to cut over 2500 trees for various development projects."
The plea further said that the felling of trees already started on Friday in at least six locations of the national capital.
The Delhi High Court has asked the petitioners to give photographs of the trees that were cut today.
Trees have been cut in Sarojini Nagar, Netaji Nagar, Kasturba Nagar, Tyagraj Nagar, Srinivaspuri, and Mohammadpur areas of Delhi.
The high court issued notices to the Ministry of Environment, Forest and Climate Change, state-owned construction firm NBCC, Ministry of Housing and Urban Affairs and others.
However, it refused to put a stay on the construction projects for now.
The court would now hear the plea on an urgent basis on Monday.
(ANI)