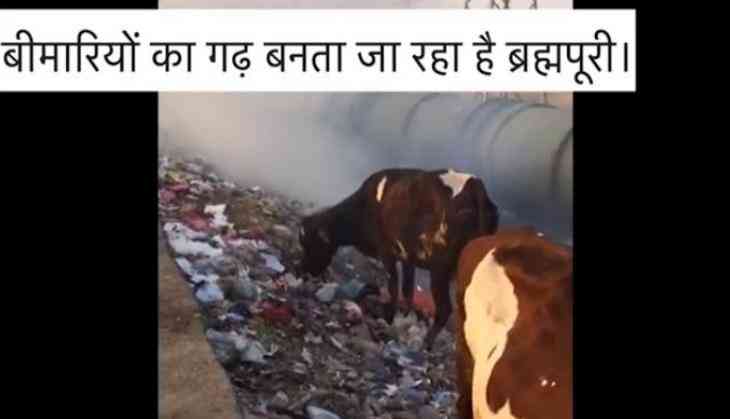 An Indian Youth Congress worker, Gaurav Sharma, who is all set to contest upcoming MCD election from East Delhi's Brahmpuri seat, recently uploaded a video on Facebook showing the filthy condition of the area and attacked the BJP ruled MCD for having failed to implement Prime Minister Narendra Modi's 'Swachh Bharat' drive.
Sharma, who is introduced in the video as a Social Worker blames BJP Councillor Ch. Mahak Singh for the dirty condition of Brahmpuri. In the video, he says that although BJP has been dominating MCD for last 10 years, the party has shown no responisbility and results.
The political aspirant Sharma also told Catch that he has written several applications to the MCD complaining about the same but received no response from them. Although, he didn't share any application with Catch even after a reminder.
On asking if he has volutarily taken any initiative towards getting the area clean, Sharma said, "there is not much power in any individual's hand and therefore, this time he will contest MCD polls from Brahmpuri seat."
On the other hand, Ch. Mahak Singh told Catch that he was unaware of any such video and added, "though I don't know the location Sharma has shown in the video but I am sure that if there is any unattended garbage, it will be cleaned by 11:00 am tomorrow."
In his defence, Singh called the video a political tactic and said, "Since the garbage is usually wet, it is picked the next day."
He also rubbished Sharma's claim of any application being written to him regarding the issue in the area. In fact, Singh challenged Sharma to upload a video of the same area tomorrow and demanded a public survey to rate his work as a councillor.
Singh also said that he would not be contesting in the upcoming MCD polls as he has been instructed by the BJP.
Delhi would go to MCD polls on 22 April, 2017. The entire MCD area is divided into 12 zones spread across three smaller municipal corporations North, South and East with a total of 272 seats. Congress, AAP and BJP are trying hard to win these polls. For the last ten years, MCD has been ruled by BJP.