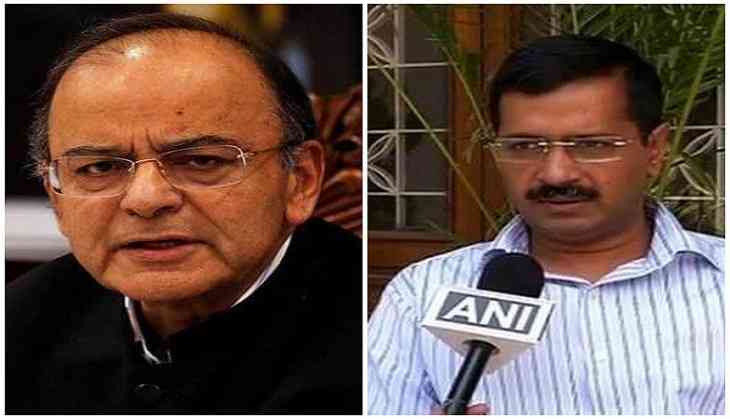 Defamation case: Arvind Kejriwal, 3 AAP colleagues apologies to Arun Jaitley; Finance Minister accepts the apology, may drop the case
The Delhi chief minister Arvind Kejriwal apologies to Union Finance Minister and BJP leader Arun Jaitley saying 'sorry' in a defamation case. The Union Minister has earlier filed a defamation case against the Delhi CM Arvind Kejriwal.
The other three Aam Aadmi Party leaders, Sanjay Singh, Raghav Chadha and Ashutosh joined the apology spree of Kejriwal to Arun Jaitley. All the four AAP leaders in a joint letter apologized to the Finance Minister.
According to reports in NDTV, the finance minister has agreed to withdraw the defamation case.
Earlier, in 2015 Mr Jaitley filed Rs 10-crore Defamation suits against Kejriwal and five other AAP leaders. The five leaders against whom the Union Minister filed defamation suits are Raghav Chadha, Kumar Vishwas, Sanjay Singh, Ashutosh and Deepak Bajpai. All six alleged financial irregularities in the Delhi and District Cricket Association (DDCA) when Jaitley was its president.
"These allegations made by me were based on information and papers furnished to me by certain individuals who represented to have first-hand insight into the affairs of DDCA. However, I have recently discovered that the information and the imputations contained therein are unfounded and warranted and I was clearly misinformed into making these allegations," wrote Kejriwal and his colleagues in the apology to Jaitley.
Delhi CM Arvind Kejriwal, AAP leaders Sanjay Singh,Ashutosh and Raghav Chadha apologize to Union Finance Minister Arun Jaitley in the defamation case he had filed against them pic.twitter.com/CJFqxVD738

— ANI (@ANI) April 2, 2018
Arvind Kejriwal and his colleagues then said they withdraw all allegations against FM Arun Jaitley.
"I offer my sincere apology to you and your family members for any harm caused to your reputation as a consequence of my allegations," the AAP leaders' joint apology further said.
They then asked to "end the unsavoury litigations between us".
Arvind Kejriwal's apology spree started in last month with Punjab ex-minister and SAD leader Bikram Majithia, then he apologised to Union Minister Nitin Gadkari and Congress leader Kapil Sibal's son Amit Sibal.
Also read: Bharat Bandh: Massive protest by Dalit hits four states; protestors block rail tracks, Internet suspended in