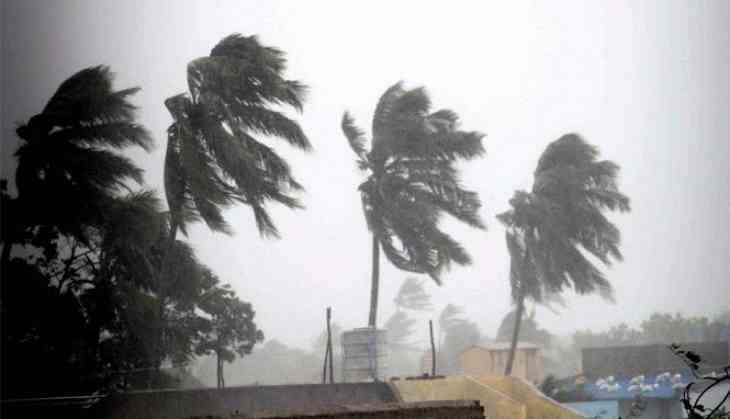 The depression over the Bay of Bengal Tuesday intensified and moved towards Odisha-Andhra Pradesh coast before taking the shape of a cyclonic storm, the India Meteorological Department (IMD) said.
The fear of a cyclonic storm thickened as the deep depression remained practically stationary and lay centered at about 560-km southeast of Gopalpur in Odisha and 510-km southeast of Kalingapatanam in Andhra Pradesh, it said.

"It is very likely to move west-northwards for some time and then north-westwards and cross Odisha and adjoining north Andhra Pradesh coast between Gopalpur and Kalingapatanam around morning of October 11," Director of the Meteorological Centre in Bhubaneswar, H R Biswas told PTI.
He said the system is very likely to re-curve north-eastwards, move towards Gangetic West Bengal across Odisha and weaken gradually.
Under its influence, heavy rainfall is likely to lash some places in south coastal Odisha's Gajapati, Ganjam, Puri and Jagatsinghpur districts from Wednesday.
This apart, districts like Ganjam, Gajapati, Puri, Jagatsinghpur, Kendrapara, Khurda, Nayagarh, Cuttack, Jajpur, Bhadrak and Balasore are expected to receive heavy to very heavy rainfall from Wednesday and Thursday.
The IMD also forecast heavy to very heavy rainfall for Kandhamal, Boudh and Dhenkanal district from October 11.
Rainfall would be accompanied by squally wind speed reaching 40-50 kmph and gusting to 60 kmph is very likely to commence along and off Odisha coast from Tuesday night.
The wind speed will gradually increase to 80-90 kmph and gusting to 100 kmph from Wednesday evening along and off south Odisha coast and 55-65 kmph gusting to 75 kmph along and off north Odisha coasts, the IMD bulletin said.
As sea condition is likely to be rough to very rough over central and adjoining north Bay of Bengal in the next 24 hours and very rough to high on October 10 and 11, fishermen have been advised not to venture into sea along and off Odisha coast and central and north Bay of Bengal till October 12.
In view of adverse weather conditions, the Meteorological (MeT) centre advised hoisting of Distant Cautionary Signal No 1 at all ports of Odisha.
The state government was also cautioned about possible floods in view of the heavy rainfall across the state.
It also issued storm surge warning stating that storm surge of height of about 0.5 meter above astronomical tide is very likely inundate low laying areas of Ganjam, Khurda and Puri districts of Odisha and Srikakulam district of Andhra Pradesh during the time of landfall.
Meanwhile, the state government has issued alert to all districts, particularly the districts of coastal region, to face the ensuing situation. The district collectors have been asked to remain alert and make necessary arrangements to shift people living in the low-lying areas.
Deputy Special Relief Commissioner P K Mohapatra informed that around 300 motor boats have been arranged to assist in rescue operation as there is likelihood of flood situation due to possibility of heavy rains till October 11.
All the cyclone and flood shelters have also been kept in a state of preparedness, he said.
-PTI