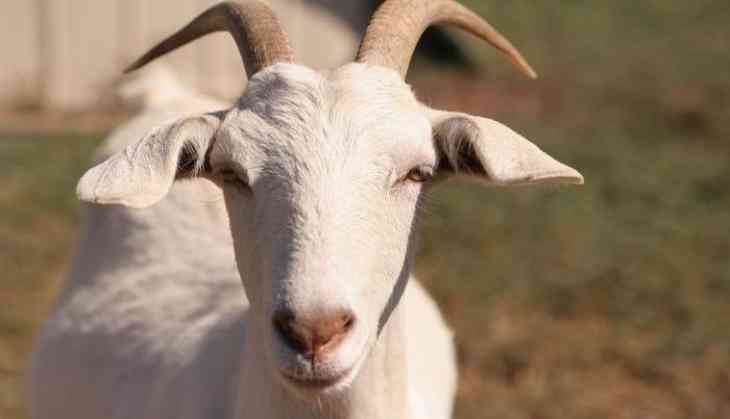 In another bone-chilling act from Haryana, a pregnant goat was allegedly abducted and gang-raped by around 8 men in Mewat town of Nuh district in Haryana. As per the report, the goat died after the sexual assault. The owner of the goat has registered a complaint in a local police station against 8 people out of three have been identified and 5 are still unidentified.
According to reports, the eight accused who are believed to drug addicts and alcoholics, raped the goat in a deserted house, following which she died. They executed the crime in a deserted house and later fled from the village.
Haryana: Pregnant goat died a day after allegedly being raped by 8 men in Mewat. Goat's owner (in pic) registered a police complaint on July 26. Police says, 'all accused are absconding. Medical of the dead goat will be conducted. Investigation is underway' pic.twitter.com/Ejyc6u56WT

— ANI (@ANI) July 28, 2018
As per cops statement, all the accused are absconding and an investigation is currently underway. As per police reports, a medical examination will be conducted on the dead goat in order to verify the veracity of the claim.
The goat owner, Aslu, a resident of a village in Mewat district, on July 26 filed a formal complaint against Savarkar, Haroon, Jaffar and five other unidentified people for allegedly raping his pregnant goat. Salu in his complaint, he said that the goat was repeatedly raped by those 8 men on July 25, Wednesday, and she died due to the sexual assault a day later.
PETA (People for the Ethical Treatment of Animals) India's Emergency Response Coordinator Meet Ashar said, "An FIR has been registered under Sections 34, 377 and 429 IPC, Section 11(1)(a) & (l) of the Prevention of Cruelty to Animals Act, 1960."
We worked with the police in filing FIR against the accused. They're expected to be arrested soon! Please join us in urging the govt. for stricter penalties, for those who abuse animals: https://t.co/Blz35IydzE https://t.co/YO9rg1z4Mz

— PETA India 🐾 (@PetaIndia) July 28, 2018
Even PETA India took to its official Twitter handle and shared the story on its feed with caption: "We worked with the police in filing FIR against the accused. They're expected to be arrested soon! Please join us in urging the govt. for stricter penalties, for those who abuse animals."
Also read: Ek Veer Ki Ardaas...Veera producer, accused of raping show's actress, sentenced 7 years jail by special women's court