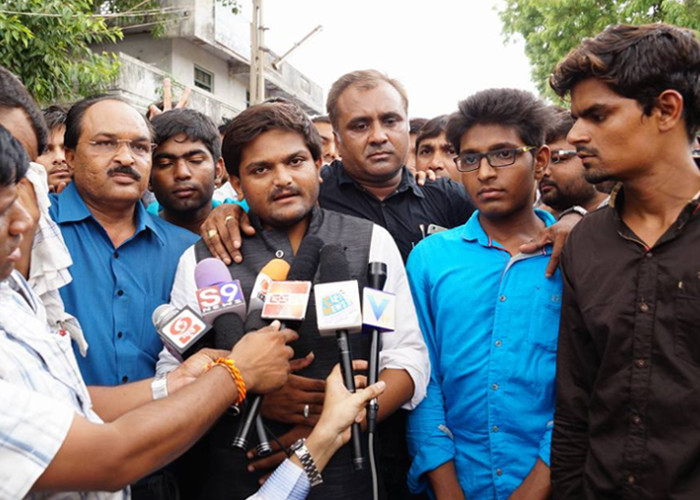 Ahead of Prime Minister Narendra Modi's visit to the United Kingdom this month, Patel quota agitation leaders on Sunday said they have sent a letter to the British Prime Minister David Cameron about alleged atrocities and police crackdown on Patel community in Gujarat.
The Patel leaders have also announced to stage a protest against Mr Modi during his UK visit to highlight the issue.
Through the letter, the Patidar Anamat Andolan Samiti (PAAS), which is spearheading the movement to get reservation for Patels, said it aims at highlighting the plight of the community, which is "wrongfully targeted by the BJP-led state government for raising the voice".
"As our PM is visiting the UK next month, PAAS has sent a letter to the British PM to inform him about what is happening in Gujarat. We want to tell the British PM that democracy no longer prevails here, as people's voice is being mercilessly suppressed by the government," organisation leader Varun Patel told reporters in Ahmedabad.
Mr Varun Patel said this during a press conference held to convey the future road map of their ongoing agitation after their main leaders, including PAAS convener Hardik Patel, has been arrested by police on stringent charges of sedition and waging war against government.
Mr Hardik Patel's key aides Chirag Patel, Ketan Patel and Dinesh Patel are also in police custody at present.
According to Mr Varun Patel, PAAS has also made a DVD containing clips of various video footage as well as newspaper cuttings highlighting "police atrocities" against PAAS leaders after their mega rally in Ahmedabad on August 25.
"Along with the letter, we have also sent a DVD to the British PM as well as to the leader of opposition in British Parliament. This is our way to send a strong message to Modi during his UK visit. Our Patel brothers in UK have also planned to stage protests during Modi's visit there," he said.
Apart from the British PM, the DVD will be sent to the United Nations, national as well as international human rights commissions, international NGOs working for human rights and all the countries having democratic set up, he said.
Revealing their plans for the upcoming local body elections in November, Mr Varun Patel said that PAAS will make an appeal to the community to 'eliminate BJP' in this election.
"Our only aim now is to uproot BJP. PAAS will ask the Patels not to vote for the BJP candidate, even if he is from Patel community. We are also planning to field independent candidates against BJP," he said, who was also accompanied by fathers of Mr Hardik Patel, Mr Chirag Patel and Mr Ketan Patel during the press conference.
According to Mr Hardik Patel's father Bharatbhai Patel, his son and others were wrongfully implicated by police at the behest of BJP-led Gujarat government.
"Hardik was just fighting for the rights of Patel community. His acts are not subject to sedition. Even though, my son and others are arrested to crush the agitation. This is clear violation of our rights as citizens," Bharatbhai, a farmer by profession, said.
In July this year, the Patel community launched an agitation seeking Other Backward Class (OBC) status. The community, under the leadership of Mr Hardik Patel, had held public demonstrations, with the largest one that was held in Ahmedabad on August 25. Mr Hardik Patel's detention at the Ahmedabad rally had led to incidents of violence and arson across the state resulting in curfew in several cities and towns.
-- PTI