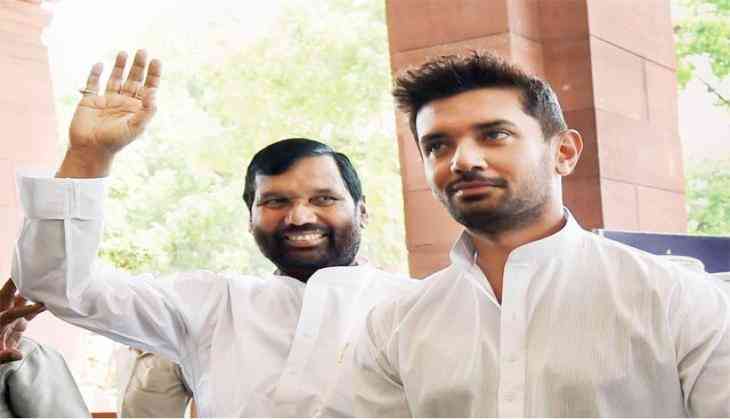 The Bhartiya Janta Party has been facing tough time after its clean sweep in assembly polls as Rashtriya Lok Samta Party (RSLP) chief Upendra Kushwaha walked out of NDA alliance over seat sharing in Bihar. Days after Kushwaha's exit, another Bihar ally of BJP has raised an alarm. Lok Janshakti Party (LJP) party chief Ram Vilas Paswan's son Chirag Paswan has warned BJP overand said that find solution before its too late.
Chirag took Twitter to warn the saffron party over party exit from alliance if did not get respectable seat shares in upcoming 2019 polls. In a series of tweets (Hindi) Chirag pointed out that NDA is going through a sensitive phase after the exit of RLSP and Chandrababu Naidu's Telugu Desam Party (TDP).
"After the exit of TDP and RLSP, the NDA is going through a sensitive phase. The BJP should act on the issues of other allies and resolve them in a respectful manner before it's too late," Chirag tweeted.
गठबंधन की सीटों को लेकर कई बार भारतीय जनता पार्टी के नेताओ से मुलाक़ात हुई परंतु अभी तक कुछ ठोस बात आगे नहीं बढ़ पायी है।इस विषय पर समय रहते बात नहीं बनी तो इससे नुक़सान भी हो सकता है।

— Chirag Paswan (@ichiragpaswan) December 18, 2018
On seats sharing between the BJP and allies Chirag said, "No headway has been made on seat-sharing despite a number of meetings with leaders of the BJP. If things are not settled in time, it could prove to be damaging", the LJP leader, whose father Ram Vilas Paswan is a member of the Union cabinet, said in another tweet.
The LJP had joined the NDA ahead of the 2014 Lok Sabha polls and won six out of the seven seats it had contested. The party also got a ministerial berth in the state government when Nitish Kumar returned to the NDA last year. It was previously with the Congress-led UPA ally.
Also read: 'Not just accidental Prime Minister but Finance Minister too' says, Manmohan Singh