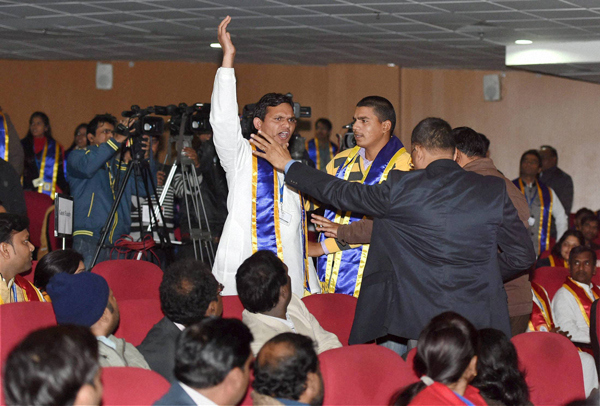 A Dalit student who protested against Prime Minister Narendra Modi as he addressed the crowd gathered at the Babasaheb Bhimrao Ambedkar University, Lucknow, for its convocation ceremony on Friday, was evicted from the university hostel as punishment, reports The Hindu.
Ram Karan Nirmal who, with Amrendra Kumar Arya, had shouted slogans like "Modi, go back," "Modi Murdabad," and "Inquilab zindabad, Phule Ambedkar zindabad," was not only dragged away from the hall, with his mouth forcibly shut, but also put into preventive detention.
After being release from custody, 31-year-old Nirmal learned that he had been evicted from the university hostel. "I voiced my dissent. For that I was evicted from the Siddhartha Boys' Hostel of the university and my boarding for the night cancelled even though my room was booked for two days," said Nirmal.
Nirmal and Arya were booked Section 151 (disturbance of public peace) of the Indian Penal Code and sent to preventive custody. After a few hours, the police released them on a personal bond.