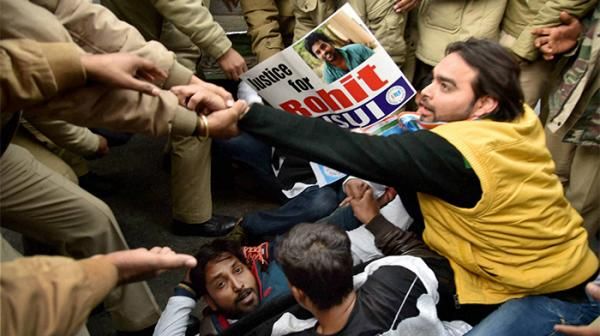 Dalit scholars have asked the central government to immediately meet nine demands made by the community, reports The Indian Express.
The scholars demanded compensation of Rs 5 crore to the family of Rohit Vemula, a Dalit student at who had been suspended from Hyderabad University and committed suicide on Sunday. They also demanded government jobs for Vemula's family members, the revocation of the suspension order against four Dalit students of the Hyderabad University, and criminal proceedings against P Appa Rao, vice chancellor of the university, Bandaru Dattatreya, union minister for labour and employment, and two others, who have been charged with abetting Vemula's suicide.
The Dalit scholars pressed for the sacking of Dattatreya from the cabinet and BJP legislator Ramachandra Rao, and the removal of Appa Rao and professor Pandu Reddy from the university.
Ashok Bharti, chairperson of the National Confederation of Dalit Organisations, said he hoped the death of Vemula would become a turning point for Dalits in India's history. "For the first time a large number of upper caste persons have come forward to support the Dalit cause," he said.
Former cabinet secretary and ex-chairperson of SC/ST commission PS Krishnan said that in Hyderabad, upper castes are also on the streets, noting that "kuch anhoni ho gayi (a misfortune has taken place)".
Krishnan said that universities should institute independent bodies to address the issues of Dalits.