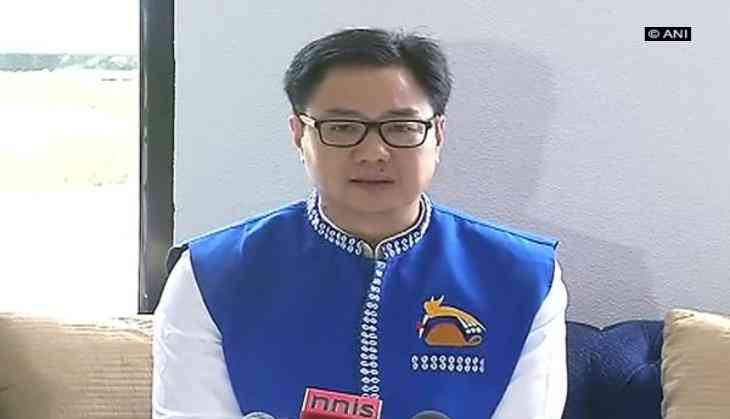 Warning against any 'artificial controversy' being created around His Holiness the Dalai Lama's visit to Arunachal Pradesh, the Centre on Monday asserted that his visit was strictly religious, not political.
"His (Dalai Lama) visit is purely religious in nature and there should be no political angle given to that," Minister of State for Home Affairs Kiren Rijiju told the media here.
Asserting that the Centre never had any problem with the neighboring countries, Rijiju said the people of Arunachal Pradesh desire to have cordial relations with people of China.
Meanwhile, the Ministry of External Affairs ( MEA) has issued a statement saying that no additional colour should be ascribed to Dalai Lama's religious and spiritual activities.
It also urged that no artificial controversy should be created around his visit to Arunachal Pradesh.
"The Government has clearly stated on several occasions that (HHDL) is a revered religious leader, who is deeply respected as such by the Indian people," the statement read.
The Dalai Lama, who was set to reach Tawang today has been forced to change his schedule due to bad weather, and will now reach Bomdila by evening.
The Tibetan Spiritual lead was set to leave Guwahati by a chopper, but the inclement weather has forced him to travel by road and change his stop to Bomdila, where he will make a public appearance tomorrow.
After staying there for two days, he will proceed to Tawang.
After several hours of thundershowers, members of Tibetan refugee community of Monpas and residents of the northwestern town of Arunachal Pradesh were out of their homes to clean the road to welcome their spiritual leader.
Tawang monastery, a place where Dalai Lama is going to stay for next four days is decorated with religious flags and coloured clothes with mantras inscribed on them.
In 1959, along with thousands of supporters the spiritual leader escaped from China and crossed over at Chuthangmu post. On global stage, China has repeatedly warned India that Dalai Lama's visit would hit the bilateral ties significantly.
Dressed in traditional costumes, around 800 monks will welcome their spiritual leader Dalai Lama in the 400 year old monastery which is India's largest and world's second largest.
During his visit he is also expected to hold a religious discourse at the stadium of Tawang's senior secondary school and will also deliver a public talk on 'Secular Ethics and Happiness' at the Kala Wangpo Convention Centre.
On April 9, he will be inaugurating the Thupsung Dhargeyling Monastery.
Security arrangements are also deployed by the Arunachal Pradesh Police and Indo-Tibetan Border Police (ITBP) to avoid any unwelcomed tensions.
Protesting Dalai Lama's visit to Arunachal Pradesh, China earlier on Friday warned India to avoid damaging bilateral relations between the two nations and adhere to political pledges, or else face the consequences.
"Therefore, we have asked India to earnestly honor its political pledges and avoid damaging China-India relations. Otherwise, India only stands to get hurt," Chinese Foreign Ministry spokesperson Lu Kang's told a press conference on Friday.
--ANI