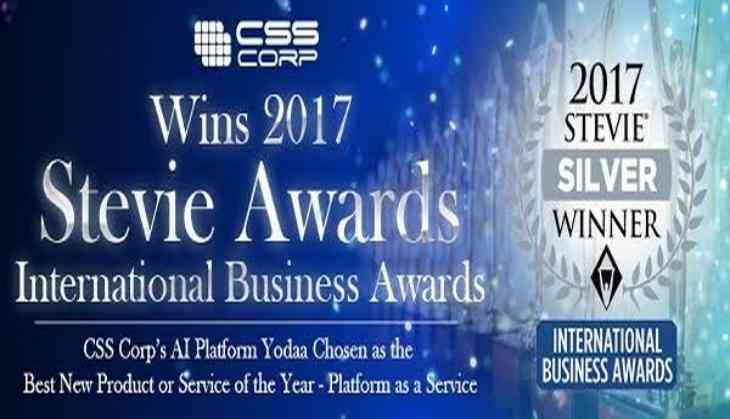 CSS Corp, a new age IT services and technology support company, was named the winner of a Silver Stevie Award in the Best New Product or Service of the Year - Software - Platform as a Service category at the 14th Annual International Business Awards 2017. CSS Corp has conferred the recognition for its proprietary Artificial Intelligence (AI) platform, Yodaa.
Yodaa is a highly personalised virtual assistant, which integrates with all customer channels like voice, email, chat and website across devices, and offers context-driven, real-time support with a human-like interaction to resolve customers' needs.
"Winning Stevie International Business Awards is a milestone for CSS Corp. We are honored to be recognised as an industry leader in innovation. Automation and AI are becoming major game changers in the world of technology and business. At CSS Corp, we are leading this change by developing technology tools and platforms that give us a distinctive advantage in delivering transformational results to our clients," said Manish Tandon, Chief Executive Officer, CSS Corp.
"Our primary focus lies in building technology solutions that make a critical difference to our clients' business, while strengthening our technology pillar. Amongst CSS Corp's many innovative solutions, Yodaa stands tall, and to have been recognised as the Silver Stevie winner is indeed a great honor for us," added Sunil Mittal - EVP, Chief Sales and Marketing Officer.
The International Business Awards are the world's premier business awards program. All individuals and organisations worldwide - public and private, for-profit and non-profit, large and small - are eligible to submit nominations. The 2017 IBAs received entries from more than 60 nations and territories.
A record total of more than 3,900 nominations from organisations of all sizes and in virtually every industry were submitted this year for consideration in a wide range of categories, including Company of the Year, Marketing Campaign of the Year, Best New Product or Service of the Year, Startup of the Year, Corporate Social Responsibility Program of the Year, and Executive of the Year, among others. Stevie Award winners were determined by the average scores of more than 200 executives worldwide who participated on 12 juries.
"The IBA judges from across the world were highly impressed with the nominations they reviewed this year. With the level of achievement documented in the nominations from 60 nations, the Stevie Awards are proud to honor organizations that demonstrate a high level of achievement in a variety of industries" said Michael Gallagher, President, and Founder of the Stevie Awards.
"We look forward to sharing many of these stories with people around the world over the coming months, through the Stevie Awards blog and social media channels, with the hope to inspire others to high achievement," he added.
-ANI