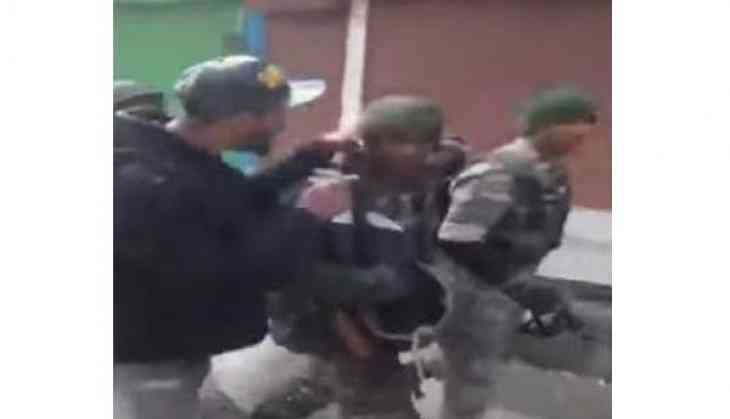 CRPF viral video: FIR registered against youth ill-treating jawans (ANI)
Following the complaint filed by the Central Reserve Police Force (CRPF) over a video clip showing its jawans being humiliated by the locals in the Valley, the Jammu and Kashmir Police on Friday registered an FIR against the youth seen in the video.
According to law, such a kind of FIR is called zero FIR and it is the prerogative of the police to file an FIR in any police station of Budgam, because no specific area has been identified yet from the video but only from Budgam district.
After a video appeared showing a section of population targetting the Jammu and Kashmir security force personnel by pelting stones and raising anti-Indian slogans, PRO of the Central Reserve Police Force (CRPF) Bhavesh Kumar on Wednesday said that they were trying to ascertain the exact location of the video and the uploader.
"This video is not made by our security personnel. We also got this through the social media. An unknown person has made this video and uploaded it. After seeing the circumstances, we think that this can be from some area of Budgam. We are trying to ascertain the exact location," CRPF PRO told ANI.
The viral video features a CRPF personnel using immense restraint even when he is attacked by an angry mob at a polling booth in Srinagar.
The video shows the Jawan walking when suddenly a civilian attacks the soldier. The impact of the attack makes the Jawan's helmet roll down the road. This caused him some injuries.
Bhavesh also expressed his concerned towards the soldiers who worked in such conditions in Kashmir.
Politicians, filmmakers, cricketers all across the country have condemned the incident in unison, demanding a stern action against the guilty.
Eminent personalities like Anupam Kher, Randeep Hooda, Farhan Akhtar, Gautam Gambhit etc. vocally slammed the goons for their behaviour towards the jawans.
-ANI