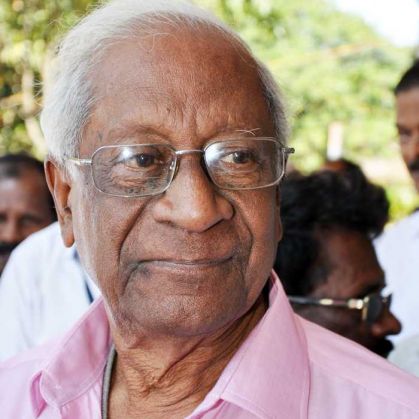 Veteran Communist leader A. B. Bardhan breathed his last on Saturday in a private hospital in the national capital.
He was 91 and was being treated at G. B. Pant hospital here. He was undergoing treatment after tests detected a blood clot in his brain and had described his condition as "critical" .
Ardhendu Bhushan Bardhan was born September 24, 1924. He was the former general secretary of the Communist Party of India (CPI), one of the oldest political parties in India.
Read More: 7 must-know facts about one of India's oldest politicians, AB Bardhan
Following paralytic stroke he was admitted to the hospital on December 7, 2015. His wife Padma, who was a professor in Nagpur University, had died in 1986.
He lost the 1967 and 1980 Lok Sabha elections contesting from Nagpur. He moved to Delhi politics in the 1990s and became the deputy general secretary of the party.
West Bengal Chief Minister Mamata Banerjee was one of the firsts to condole his death on Twitter.
Saddened at the passing of veteran politician AB Bardhan. Condolences to his family and colleagues in his party

- Mamata Banerjee (@MamataOfficial) January 2, 2016
Reactions from all quarters followed soon.
Saddened to hear of the demise of senior CPI leader AB Bardhan ji. He was known for his deep concern for workers, poor and needy.

- Rajnath Singh (@BJPRajnathSingh) January 2, 2016
Communism is out of vogue, but it shaped many gentlemen oozing dignity & old world charm, beyond the trappings of ideology. AB Bardhan, RIP

- Madhavan Narayanan (@madversity) January 2, 2016
My heartfelt condolences on the demise of Shri AB #Bardhan, veteran #CPI leader & social worker. May his soul RIP. pic.twitter.com/uVM4CT05DN

- YS Chowdary (@yschowdary) January 2, 2016
With inputs from ANI