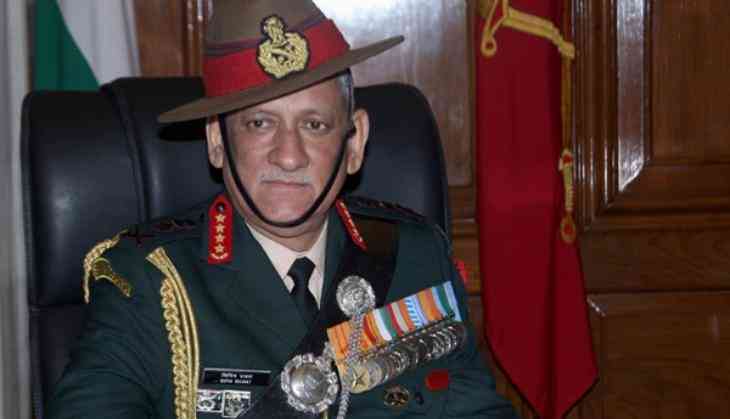 Speaking about the recent encounter in Jammu and Kashmir's Pulwama district in which three Jaish terrorists were gunned down, including Masood Azhar's nephew, Chief of Army Staff General Bipin Rawat on Tuesday asserted that aim of the Indian Army is to eradicate terrorism from the Valley and they will continue with such operations to attain it.
"Such operations will continue. We will try to neutralise people involved in spreading terrorism. Our focus is to eradicate terrorism; it doesn't matter if he is Masood Azhar's nephew or anyone else," he told the reporters.
On the recovery of M4 Carbine rifle from the site during the Pulwama encounter, the Army chief said, such recoveries make it clear that terrorists are getting support from across the border.
He also stressed on the importance of improving the tunnel technology to shorten the distance in the hilly area.
He said it is important to make this tunnel as earliest as possible.
"I think we need to outsource some technology and equipment for the same. We only want that these routes to be constructed fast," he said.
Earlier, the terrorist outfit Jaish-e-Mohammad confirmed that three terrorists, who were gunned down by the security forces, included Maulana Masood Azhar's nephew and outfit's divisional commander.
"Three militants killed during an encounter at Kandi Aglar village of Pulwama district includes nephew of Jaish-e-Muhammad chief Maulana Masood Azhar and outfit's divisional commander," a JeM spokesman told in a statement.
The JeM spokesman identified Masood Azhar's nephew as commander Talha Rasheed.
Meanwhile, one security personnel Lance Naik Vrahma Pal Singh lost his life in yesterday's encounter.
A civilian was also got injured during the operation.
-ANI