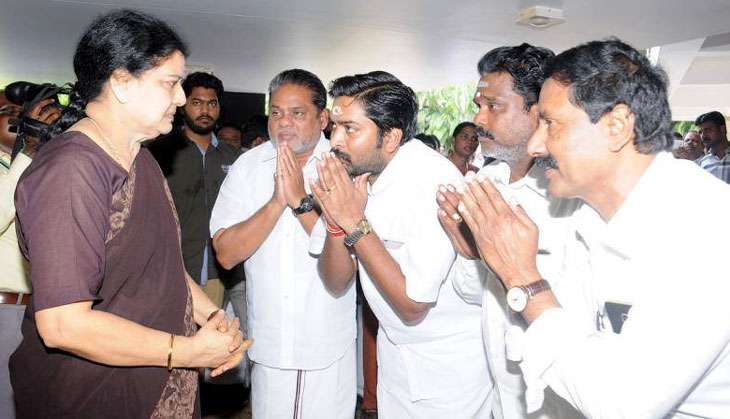 With the controversy surrounding elevation of V.K. Sasikala Natrajan as Tamil Nadu Chief Minister intensifying, the National Congress Party (NCP) on Wednesday said the All India Anna Dravida Munnetra Kazakham (AIADMK) General Secretary could be sworn-in as the Chief Minister constitutionally because majority of MLAs had elected her.
"As far as Sasikala elevation is concerned, it has become the matter of controversy. Initially, it was declared that the majority of the MLAs from Tamil Nadu assembly who belonged to AIADMK have already chosen her the leader of the house and therefore constitutionally she could be sworn-in as the Chief Minister of the state," NCP leader Majeed Memon told ANI.
Memon further said that there are numbers of issues such as mystery about the death of her predecessor, pendency of matter against her, non-experience which are being raised but all become insignificant once the majority of MLAs want her to take over as Chief Minister.
Echoing similar views, another NCP leader Tariq Anwar said: "Things are not clear regarding on which direction AIADMK will move but Sasikala has been elected as Chief Minister with majority. It is the internal matter of the party and they need to decide as who will be their next Chief Minister.
Meanwhile, reacting to the political crisis, interim Chief Minister O. Panneerselvam today said that there is a force behind everything that is happening in the state.
Issuing fresh allegations, Panneerselvam claimed he was never allowed to meet late chief minister J. Jayalalithaa even once when she was hospitalised in the Apollo Hospitals.
The Tamil Nadu politics witnessed a turn of events yesterday with Panneerselvam staging a major revolt against Sasikala, who has been elected as the Legislature Party leader.
Panneerselvam said he was forced to resign from the Chief Minister post by the Sasikala camp which was however, denied by the AIADMK general secretary.
Meanwhile, after consulting some of her party colleagues and Ministers at the Poes Garden residence, Sasikala announced the removal of Panneerselvam from the AIADMK treasurer post.
Reacting to his removal, Panneerselvam said that the party treasurer post was entrusted to him by late Jayalalithaa and he cannot be removed by any one.
Panneerselvam, in a surprise move last night, went to the burial site of Jayalalithaa at Chennai's Marina Beach and told the media that after her demise, he was made to agree for V. K. Sasikala to the post of party General Secretary.
However, Panneerselvam said he is ready to take back his resignation from the post of Chief Minister if the party cadres and the public want him to do so.
Governor Vidyasagar Rao has accepted the resignation of Panneerselvam.
However, he has asked him and his Cabinet to continue to discharge the duties till alternate arrangements are made.
--ANI