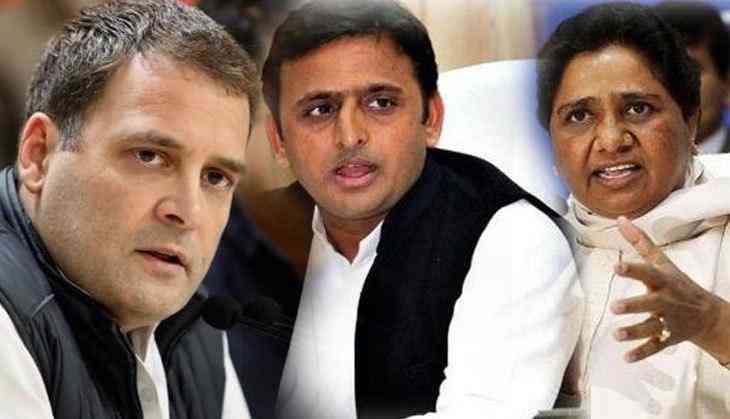 After being left out as an alliance partner in UP by SP-BSP, the Congress party is planning to contest all the 80 Lok Sabha seats and hold mega rallies across the state.
As per reports, Rahul Gandhi would hold 13 mega rallies across the state in the 13 different zones with 6 Lok Sabha seats in each zone and Rahul Gandhi will hold one rally in each zone to raise Congress' chances of winning the state.
Uttar Pradesh in-charge of Congress Raj Babbar and senior leader Ghulam Nabi Azad will hold a meeting today to discuss about the future course and chart out a road map for the 2019 polls.
Earlier, Rahul Gandhi while addressing a press meet in Dubai, commented upon the SP-BSP alliance and said that they have all the right to form the pact and go ahead in the polls.
Congress President Rahul Gandhi in Dubai: BSP and SP have made a political decision. It's on us on how to strengthen the Congress party in Uttar Pradesh and we will fight with our full capacity. https://t.co/gNxJ5kxpGw

— ANI (@ANI) January 12, 2019
Gandhi said, "They have taken a decision in Uttar Pradesh, and we will have to take our own decision too. The Congress has lots to offer to the people of Uttar Pradesh. I have tremendous respect for the leaders of the BSP and Samajwadi Party, and recognise that they have the right to do what they want. It's on us to strengthen the Congress party in Uttar Pradesh, and we will fight to our full capacity."
In 2017 Assembly Election of UP, Samajwadi Party had aligned with the Congres and 'UP ke ladke' slogan became famous but the result brought a closure to their alliance, when Congress could win a mere 7 seats and the SP was brought down to 46."
Also read: Fact check: Defence Minister Nirmala Sitharaman claims 'no terrorist attack in India since 2014,' know the truth