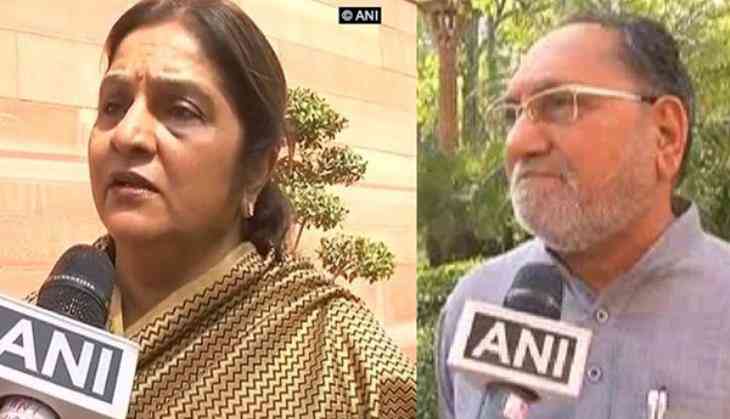 Congress says, PM Modi, Sushma Swaraj must ensure Kulbhushan Jadhav's release
Condemning the death sentence to alleged Indian spy Kulbhushan Jadhav by the Pakistan military court, the Congress on Tuesday said that Prime Minister Narendra Modi and External Affairs Minister Sushma Swaraj must intervene into the matter and ensure his release.
'We have given a notice on this. The government must try to release him. He was a businessman and was doing business. If Pakistan abducts him and hangs him then this is not fair. Our Prime Minister and External Affairs Minister must put their efforts to release him,' Congress leader Mallikarjun Kharge told ANI.
The Ministry of External Affairs (MEA) has said that the Indian High Commission in Islamabad was not even informed about Jadhav's trial in the court.
The MEA added that the subsequent presence of Jadhav, who was kidnapped last year from Iran, has never been explained credibly by the Pakistani authorities.
'The proceedings that have led to the sentence against Jadhav are farcical in the absence of any credible evidence against him. Senior Pakistani figures have themselves cast doubt about the adequacy of the evidence,' an official release stated.
'The claim in the Inter-Services Public Relations (ISPR) release that Jadhav was provided with a defending officer during the so-called trial is clearly absurd in the circumstances,' it added.
The MEA said the Indian Government, through its High Commission in Islamabad, repeatedly sought consular access to Jadhav, as provided for by the international law.
'Requests to that effect were formally made 13 times between March 25, 2016, and March 31, 2017. This was not permitted by the Pakistani authorities,' the statement said.
'If this sentence against an Indian citizen, awarded without observing basic norms of law and justice, is carried out, the Government and people of India will regard it as a case of premeditated murder,' the statement added.
India yesterday summoned Pakistan's High Commissioner Abdul Basit and issued a demarche against Pakistani military court for awarding death sentence to Jadhav.
-ANI