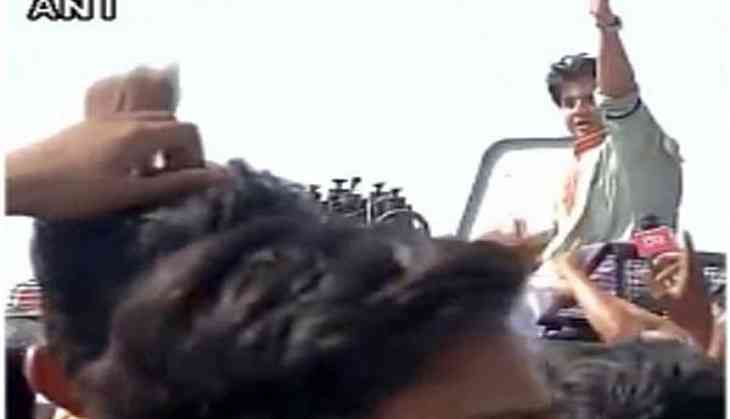 The Congress on Monday said that the agrarian sector runs under two engines - revenue, production and facts and the other is emotion, trust and promise, and they have been completely dismantled by the Prime Minister Narendra Modi-led Government at the Centre.
"In this country, the agrarian sector runs in two engines - revenue, production and facts and the other is based on emotion, trust and other is promise. Both the engines today have been completely dismantled by the Bharatiya Janata Party (BJP) Government and that is why we are seeing the farmers crying the way they are," Congress leader Jyotiraditya Scindia told the media here.
He said that the farmers suicide and agrarian distress are rampant in the country across every stage.
Lauding the previous government at the Centre - of the Congress, Scindia said, "In 2008-09, when the world went through a financial crisis, India still posted a GDP growth rate of 8.5 to 9 percent in that fiscal year. The reason was because of the surplus agrarian income which fuelled the economy, demand and disposable income."
He further claimed that in the last three years of the Prime Minister Modi Government, the Market Selling Price (MSP) have risen not even by 12 to 15 percent over three years.
"In the last three years of UPA Government agricultural growth rate was 4 percent. In the last three years of this government, agricultural growth rate was 1.7 percent compounded," he added.
These comments come in the wake of the Bhartiya Kisan Sangh (BKS), unhappy with the Rajasthan Government over handling of farmers' issues in the state, declaring that it would launch a state-wide agitation against the government from June 20, adding that all the farmers market (mandi) will be shut down in the state.
Madhya Pradesh's Mandsaur has become the epicentre of farmers' agitation over a demand for loan waivers and better prices for their produce.
During an agitation, six farmers were gunned down by the police, thereby drawing criticism from political parties. The situation forced the district officials to impose Section 144, and restricted prominent personalities from visiting the violence-hit district.
A number of political leaders, including Congress vice-president Rahul Gandhi, and social activists, tried to visit Mandsaur but the police didn't let them enter the area.
-ANI