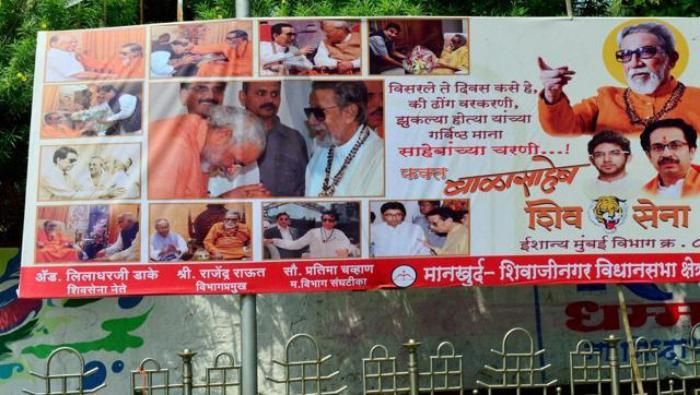 The leader of Opposition in the Maharashtra Assembly, Radhakrishna Vikhe Patil, has criticised the ruling alliance partner Shiv Sena for putting up a poster showing President Pranab Mukherjee and Prime Minister Narendra Modi bowing before the late Bal Thackeray.
The Congress leader also asked why the saffron party, which is currently targeting Pakistani personalities, allowed its MP to be sworn in as minister in the presence of Pakistan Prime Minister when the BJP-led NDA came to power in Centre.
The President is the Constitutional head of the country, and the poster insulted him, Patil said.
The photo used in the controversial poster was taken during Mukherjee's meeting with the late Sena supremo at the time of the Presidential election.
"Mukherjee was following the tradition of greeting an elderly person and was not bowing before anyone," Patil said.
Sena was using the poster simply to assert its existence, he said. "If it is so nationalistic, why did (Sena MP) Anant Gite take oath as the union minister in front of the Pakistan Prime Minister Nawaz Sharif? Instead of taking out its frustration in this manner, Shiv Sena should resign from the governments in the state and at the Centre," he said.
BJP should take action against Shiv Sena for defaming the President, while Shiv Sena should apologise, he demanded.