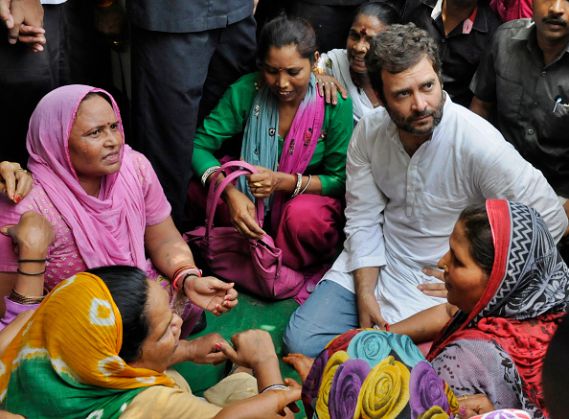 Congress Vice President Rahul Gandhi continued to target Prime Minister Narendra Modi, this time outside Delhi. Addressing a rally in support of farmers in Andhra Pradesh, Gandhi on 24 July said the Prime Minister came to power with the "support of people who wanted to change the Land Bill enacted by the UPA government".
Addressing a rally at Anantapur in Andhra Pradesh he said, "The Prime Minister was under the impression that he could easily take away the land from the farmers and change the Bill. He (Modi) said in Parliament he will carry out development on farmers' land," Rahul added.
"The Congress took a stand in Parliament and we decided that we are not going to let the Prime Minister take land of Indian farmers that easily," he said.
He tried explaining the farmers how the NDA government decided to change the Land Bill enacted by UPA in 2013 meant to protect farmers.
"The crux of the Land Bill that we brought was that farmers should be asked for their permission before the land is taken away from them. Our Bill ensured that politicians and their big businessmen friends could not just take away land from farmers," Rahul said.