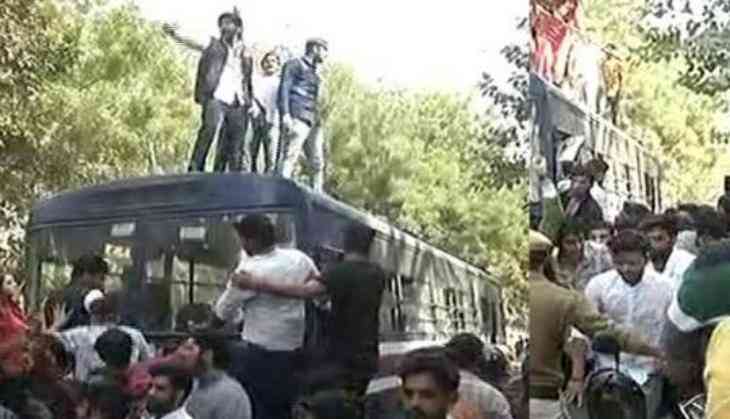 Clashes broke out outside Delhi University's Ramjas College as student activists linked to the Bharatiya Janata Party ( BJP) protested over a college invite to controversial Jawaharlal Nehru University student Umar Khalid.
On Tuesday, Ramjas College was forced to call off a seminar following heated protests against an invite to JNU students Shehla Rashid and Umar Khalid, who was accused of shouting anti-India slogans last year.
Members of the college student union and the Akhil Bharatiya Vidyarthi Parishad (ABVP), which owes allegiance to the RSS, disrupted the event even before Khalid reached the campus.
Khalid was invited by the college's Literary Society to speak in the afternoon on a subject related to his PhD, which he is doing from JNU. His topic at the seminar was The War in Adivasi Areas.
But before he could reach the college, members of the Delhi University Students Union (DUSU)?and ABVP arrived and protested. They met principal Rajendra Prasad and objected to Khalid's participation at the event, titled Cultures of Protest.
Principal Prasad said police had advised that the function be called off.
The English department and the Literary Society of the college had permission from the principal to hold the two-day conference.
Khalid, a former member of the ultra-radical Democratic Students Union (DSU), was arrested last year on charges of sedition for his role in organising a rally at JNU to commemorate the anniversary of the execution of 2001 Parliament attack convict Afzal Guru.
Anti-national slogans were allegedly shouted at the event.
Following his arrest, Rashid, then the vice president of the JNU union, emerged as the face of a stir, demanding the release of Khalid and fellow students jailed for the contr oversial event.
-ANI