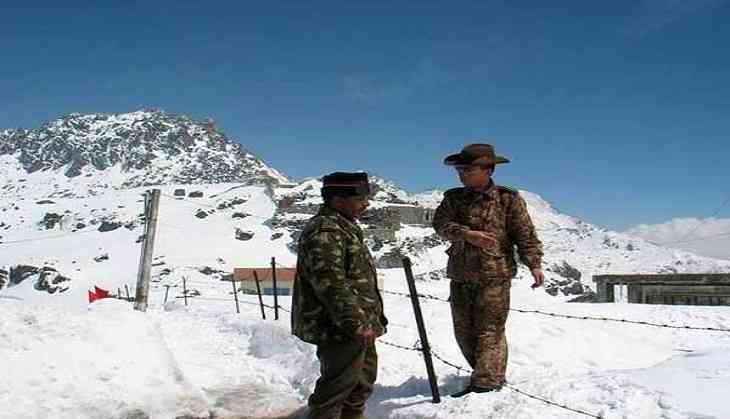 Five years after the 1962 Sino-Indian war, following a fierce skirmish and retaliation by the Indian Army at Sikkim in 1967, the 4057-kilometer-long complex and perception-based Line of Control (LAC), has been managed by both armies without pulling the trigger for 50 long years. And that is despite very frequent incursions/transgressions mainly/much more by China's People's Liberation Army (PLA), many of which resulted in unarmed grappling by troops of both armies, but always ending with negotiations by field commanders and/or diplomatic dialogue.
However, the PLA's transgression beginning on June 8, 2017 into Bhutan's Doklam Plateau (also known as Doka La by India and claimed as Donglun by China), at the tri-junction of India's Sikkim, Bhutan and China-held Tibet, actually amounts to aggression and has resulted in a dangerous stand-off, continuing for over a month.
On the very next day, i.e. June 9, when Prime Minister Narendra Modi and President Xi Jinping met for the Shanghai Cooperation Organisation's Summit at Astana, Kazhakstan, it was reported: "There was an understanding that where we have differences, it is important that differences should not become disputes."
But the PLA's actions on the ground belie such a spirit. First, it demolished two bunkers and then began constructing a road towards Doka La. The Royal Bhutan Army (RBA) tried to intervene, but were pushed back. The RBA then sought assistance of the Indian troops, who moved down the ridge and obstructed the construction work, leading to the standoff.
Visuals on television of Indian soldiers relentlessly grappling with their PLA counterparts leave no doubt about their determination and great restraint.
Bhutan's Ambassador to India Vestop Namgyel is reported to have stated in the media that Bhutan issued a demarche to China over the construction of a road towards its army camp in Zomplri area of Doklam and asked China to restore status quo by stopping the construction work.
The stand-off has also led to diplomatic heat between India and China, as both sides have reinforced their positions.
China has accused India of wrongfully interfering in China-Bhutan boundary talks and said that the "ball is in India's court" to end the standoff.
The Indian Army has deployed 3,500 additional "non-combative" troops in a show of strength near the tri-junction.
India expediting the building of hollow block bunkers along the LAC, India's refusal to take part in the One Belt, One Road summit organized by China and Prime Minister Modi's visits to the United States and Israel, have all peeved China.
Since then, Beijing has issued a warning over India's strategic infrastructure development along/near the LAC, especially in the north-east region. China opposed the infrastructure development issue several times. It is certainly not happy about India raising a mountain corps with two divisions already.
The construction of bunkers particularly, has been a flashpoint in Sino-India ties.
Former foreign secretary and former Indian Ambassador to China, Nirupama Rao is reported to have stated that the last few months have exposed the fragilities and strains in the India-China relationship.
The equilibrium is already pitched at a low level. There has been no visible attempt to defuse tensions as the temperature has risen steadily.
India has some genuine grievances for which China has shown little understanding.
The Chinese handling of the China-Pakistan Economic Corridor issue is one example...... The dispute in the Doklam area is known. It is not a new phenomenon. But China's road construction is a deliberate move to trigger a response from Bhutan and India.
Through its actions, China is seeking to impose its own definition of the tri-junction point of the boundary between Bhutan, China and India (Sikkim).
The move has serious security ramifications for both Bhutan and India. Bhutan and India enjoy the closest relationship of mutual trust and confidence. There is absolutely no controversy about military-to-military cooperation and understanding between our two countries. India holds Bhutanese sovereignty as sacred and inviolable.
According to Claude Arpi, and India-based French expert on India, China and Tibet, China has tried to push the envelope by starting to build a road through territory which is disputed, thinking that India would not defend Bhutan. Beijing has been proved wrong in this regard.
A brief look at some events during the past fifty bulletless years is relevant.
In 1967, when the PLA upped the ante at Nathu La, Sikkim, by mortar and artillery bombardment and direct fire, killing some Indian Army officers and soldiers, Prime Minister Indira Gandhi overturned the 1962 humiliation by sanctioning use of artillery requested for by the then Brigade Commander, Brigadier M.M.S. Bakshi, MVC, resulting in about 400 PLA troops being killed, a convoy of vehicles being destroyed and many bunkers being levelled.
The message that 1962 cannot be repeated went to the Chinese very effectively. However, incursions by Chinese continued in some form or the other, but significantly, they have all been bullet-less for fifty years since that skirmish, so far.
1986-87: China upped the ante again with a massive build-up in the Sumdorong Chu region, north of Tawang. The then Indian Army Chief Gen.Krishnaswamy Sundarji responded by launching "Operation Falcon". The crisis was resolved without any exchange of fire.
1994: Gen. Bipin Joshi became the first Indian Army Chief to be invited to visit China since 1962. While the Chinese broke protocol in welcoming him, transgressions continued.
1999: During the Kargil conflict, the Pangong Tso area became a great flashpoint when, China constructed a five-kilometer-long track right up to the lake's southern bank. Both sides now carry out routine patrols on the track and mark their presence, but avoid physical contact. Yet Chinese patrolling speedboats often swirl aggressively around Indian boats.
31 January 2000: The Chinese People's Liberation Army built a permanent road network and set up bunkers five kilometers into the Indian side of the LAC in Ladakh's Aksai Chin area.
1 April 2000: India and China commemorate 50th anniversary of diplomatic relations. Arunachal Pradesh Chief Minister Mukut Mithi accused China of violating the LAC and crossing into Indian territory. Mithi said Chinese-built mule tracks had been discovered by Indian Army soldiers near the Kayela Pass in the state's Dibang Valley district, bordering Tibet.
"They come in the guise of hunters, cross the LAC and at times even claim that parts of Arunachal belong to them,"he had said.
23 June 2003: Indian Prime Minister Atal Bihari Vajpayee made a landmark visit to China. Simultaneously, a Chinese patrol transgressed 16 kilometers inside India and intimidate an Indian detachment.
6 July 2006: China and India re-open Nathu La Pass, Sikkim, which was closed since the 1962 Sino-Indian war. In November 2006, the Chinese Ambassador to India publicly declared that Arunachal Pradesh was Chinese territory. In December, PLA conducted joint military war games with Pak army in West of J and K, codenamed "Friendship 2006", to mark the 55th anniversary of Sino-Pakistan diplomatic relations, based on India being viewed as a common enemy. Subsequently the Chinese build-up began in Pakistan Occupied Kashmir, which now amounts to an army division.
25 May 2007: China denied a visa to Arunachal Pradesh chief minister, arguing that since the state is in fact a part of China he would not require a visa to visit his own country. Then BJP MP Kiren Rijiju made a startling claim that China had moved 20 kilometres into the Indian territory, amounting to 9000 square kms since quite some time and claimed that Ministry of External Affairs had admitted to Chinese occupation of Arunachal Pradesh. 140 incursions reportedly occurred in 2007.
Soon after former Defence Minister AK Antony's late 2007 visit to Arunachal Pradesh , former Prime Minister Manmohan Singh promised a substantial long-overdue infrastructural development package to the state . Major mobilization and relocation of Border Roads Organisation's (BRO) resources became the spark-off point for the Chinese to focus their attention on Eastern Ladakh, the J and K part of the LAC, by launching a series of multi-mode and multi-dimensional incursions involving camping, painting CHINA in Mandarin on rock faces, filching fuel and what not. In this "increasingly assertive'' behaviour by China, transgressions on the Pangong Tso (tso means lake), by Chinese troops on foot/ motorized boat patrols have become a continuous routine.
2008-09: There were major Chinese incursions in the general area of the barren land at Chumar, East of the picturesque Morari Tso, Zulung La and the 22, 420 feet high Mount Gya.
27 August 2010: India canceled defence exchanges with China after Beijing refused a visa to Lt. Gen. B.S. Jaswal, heading Northern Command, because he "controlled" the disputed area of J and K. India subsequently refused to allow two Chinese defense officials to visit New Delhi. November 2010: China started the practice of issuing stapled visas to people from Jammu and Kashmir.
April 2013: A platoon-plus Chinese detachment made a most unusual kind of intrusion 19 kms across the LAC into Indian territory at Chumar, in Ladakh's Daulat Beg Oldi sector/Depsang Valley, camped there in tents with Molosser dogs for three weeks and departed after much diplomatic dialogue. On 17 June another detachment of Chinese troops came on horseback, demolished/damaged some bunkers, cut some wires of cameras installed at the border post and took away some other visual equipment, broken remains of which were reportedly returned later. Chumar, located 300 km from Leh, has always been an area of discomfort for the Chinese troops as this is the only area along the LAC, which they do not have easy/close access to . On 12 July, Chinese troops transgressed in area Burtse, about 30 km from the LAC.
September 2014: When Xi visited India, PM Modi, broke protocol and received him in Ahmedabad. China promised $20 billion worth of investments in India over five years. Even as the two leaders sat on a swing at the banks of the Sabarmati river, the PLA had already violated the LAC at Ladakh-Chumar and Demchok. When confronted by Modi over these intrusions, Xi is reported to have assured him to have his troops to withdrawn and end the border standoff, after he returned.
While China has been petty enough to disallow Indian pilgrims to visit Kailash Mansarovar, Indian government and Army are tight-lipped but deliberating at the highest levels and this time they have not yet blinked. War is certainly not a favorable option for either country. But God forbid, if push comes to shove, the Army Chief Gen. Bipin Rawat has already stated that Indian Army is prepared for a two and a half fronts war. PLA should remember 1967.
The view expressed in the abover article are that of Col. Anil Bhat (Retired).
-ANI