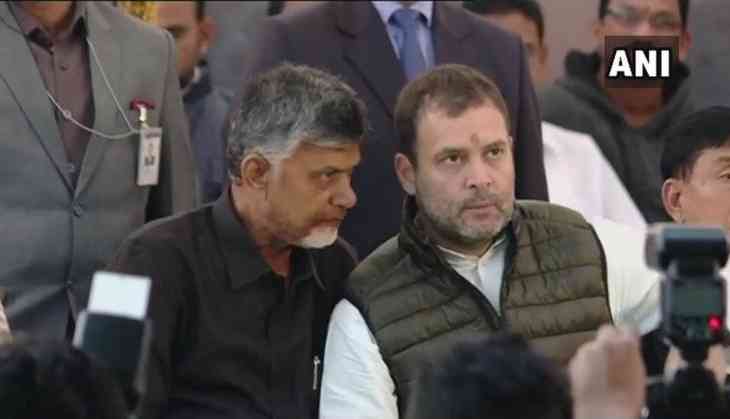 Rahul Gandhi and Chandrababu Naidu
As Congress is getting political mileage from the Priyanka Gandhi roadshow, TDP's Chandrababu Naidu is protesting in Delhi who was joined by Rahul Gandhi and both have attacked PM Modi.
Although, Chandrababu Naidu has reminded PM Narendra Modi of his political guru and late former PM Atal Bihari Vajpayee when the latter had reminded the then chief minister of Gujarat, to follow the Raj Dharma during the 2002 Gujarat riots.
"(Former PM) Atal Bihari Vajpayee said ''Raj Dharma'' was not followed in Gujarat (during the 2002 riots). Now, "Raj Dharma" is not being followed in the case of Andhra Pradesh. We have been denied what is rightfully ours. If you don't get it done, we know how to get it done," the 68-year-old Chief Minister said. Former Prime Minister Atal Bihari Vajpayee had referred to "Raj Dharma," said Andhra Pradesh CM Chandrababu Naidu.
Derek O'Brien, TMC at 'Dharma Porata Deeksha': Chandrababu Naidu ji, I would like to congratulate TDP. We started this fight 4 years back but there is a very important date - July 20, 2018 - when TDP brought in 'No Confidence Motion' in Lok Sabha. This scared Modi. pic.twitter.com/UMG9NLlOvr

— ANI (@ANI) February 11, 2019
Rahul Gandhi, who attended the hunger strike this morning said, "The prime minister has stolen from the people from Andhra Pradesh and he has given that money to Anil Ambani. That is the fact of the matter."
Former PM Manmohan Singh also met CM Naidu and extended his full support demanding PM Modi to listens in Andhra people.
Manmohan Singh said, "Demand for special status had support of all parties when it was discussed in Parliament."
TMC's Derek said, "Chandrababu Naidu ji, I would like to congratulate TDP. We started this fight 4 years back but there is a very important date - July 20, 2018 - when TDP brought in 'No Confidence Motion' in Lok Sabha. This scared Modi."
Also read: Ahead of Priyanka Gandhi's roadshow in Lucknow; #NetaPriyanka joins Twitter, gets