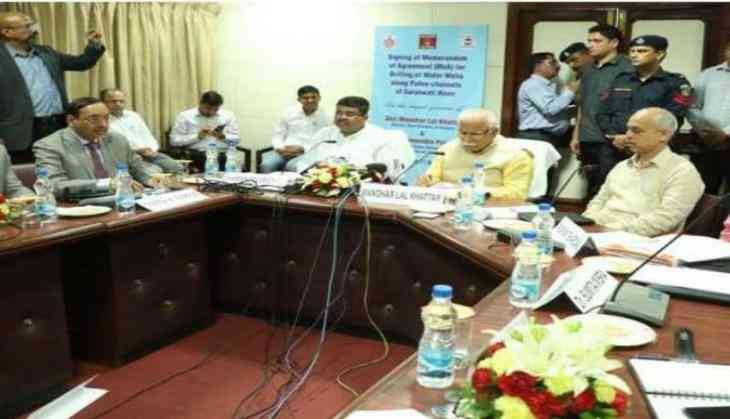 The Centre and the Government of Haryana joined hands on Thursday to revive the long lost River Saraswati and provide water to the drought-prone areas of India.
Union Minister of State for Petroleum and Natural Gas (Independent Charge) Dharmendra Pradhan and Haryana Chief Minister Manohar Lal Khattar witnessed the signing of the 'Memorandum of Agreement'.
Pradhan said, "The Haryana Government and ONGC have signed a Memorandum of Agreement for drilling of 10 water wells along the Petro Channel of Saraswati River up to a depth of 400-500 meters, which will aim at providing water in drought-prone areas".
Helping to restore the lost glory of River Saraswati, Pradhan stated that this MoA will also retain the river's beauty as well.
"The MoA signed today will not just increase the availability of water in the region but will also help in efforts towards rediscovering the lost lineage of Saraswati River. In years to come, water will be a costlier commodity than Oil; in fact, in some parts of the World it's already costlier," Pradhan said.
Khattar further asserted that this ONGC project is an added advantage for the state.
"This ONGC project will be the best added advantage for the state. Drilling of 10 water wells will aim at providing sufficient water in drought-prone areas especially for the summer season. When this plan was initiated I happily wanted to take it ahead for the state," Khattar added.
-ANI