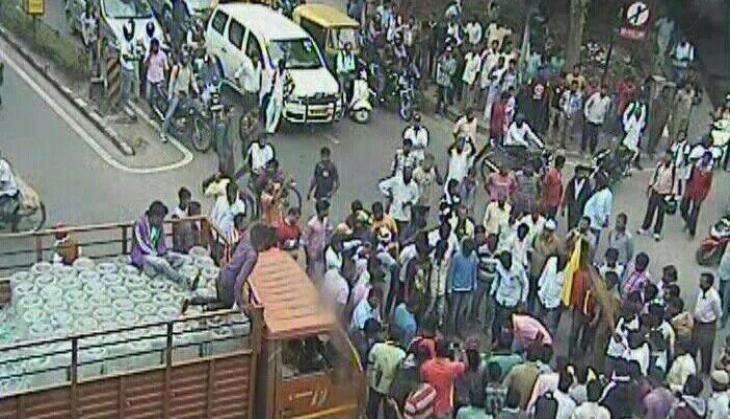 Karnataka Chief Minister Siddaramaiah termed the Supreme Court's order directing Karnataka to release 6,000 cusecs of Cauvery water to Tamil Nadu till 27 September as "unimplementable". Following which, he has called for a Cabinet and an all-party meeting tomorrow to chalk out a future course of action. According to reports, Bharatiya Janata Party (BJP) and Janata Dal (secular) has decided to boycott the all-party meet while asserting that Karnataka should release water.
"The Supreme Court has passed an order, as we do not have water, it is very difficult to implement it. It is an unimplementable order," Siddaramaiah told the media.
"We will discuss the pros and cons of this order. After taking views and opinion of leaders from all parties, we will proceed further," he added.
BJP and JDS decides to not attend the all-party meet called by Karnataka CM Siddaramaiah over #CauveryIssue, today.

— ANI (@ANI_news) September 21, 2016
Protest by farmers at Mysore road in Bengaluru (Karnataka), tie noose around their necks #CauveryProtests pic.twitter.com/TOv7kRdjmr

— ANI (@ANI_news) September 21, 2016
The Supreme Court, on 20 September, directed Karnataka to release 6,000 cusecs of Cauvery water every day from 21 September to 27 September.
A day before that the Cauvery Supervisory Committee, which held a meeting on 19 September to decide on the quantum of the river water to be released to Tamil Nadu, had asked Karnataka to release 3,000 cusecs of water from 21 September to 30 September.
Keeping in mind last week's widespread violence over the Cauvery issue in Bengaluru, Siddaramaiah also appealed to the public to maintain peace, while giving a assurance that the government "is committed" to protect the interest of the state, its people as well as farmers.
--With PTI inputs