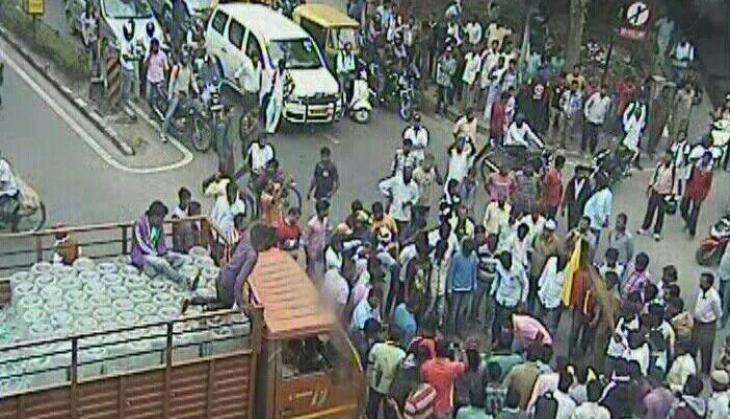 Pro-Kannada activists on 13 September continued their protest in Mandya, Karnataka over the Cauvery water sharing row with Tamil Nadu.
Union Home Minister Rajnath Singh on 12 September assured full assistance to Tamil Nadu and Karnataka governments to deal with the current state of violence that is prevailing in both the states over the Cauvery water issue.
Also Read: Cauvery row: Jayalalithaa writes to Siddaramaiah seeking protection for Tamil speaking people
Singh has assured assistance to both Tamil Nadu Chief Minister J Jayalalithaa and Karnataka Chief Minister Siddaramaiah to tackle the present state of unrest.
Meanwhile, in wake of the protests erupting over the Cauvery issue, Jayalalithaa has written to Siddaramaiah, requesting him to ensure safety and security of Tamilians residing in Karnataka.
Also Read: Cauvery row: Bengaluru on edge, 16 areas under curfew
With protests escalating in the wake of Cauvery water dispute that escalated between Karnataka and Tamil Nadu, the Bengaluru Police imposed Section 144 of the CRPC, meaning that no more than five people will be allowed to gather in public places in the city.
Massive violence broke out yesterday in parts of the city as several trucks, school buses and bus stands were seen being set on fire by the pro-Kannada protesters in West Bengaluru.
The protesters targeted vehicles bearing Tamil Nadu registration numbers and set them on fire. They also vandalised trucks near Hubli bypass in Karnataka.
Meanwhile, saying "we will fight it legally", Karnataka Home Minister G Parameshwara has requested pro-Kannada activists and farmers associations to maintain peace.
He also informed that 10 companies of CRPF and the Rapid Action Force (RAF) have been sent.
Siddaramaiah has also appealed for peace and has written to his counterpart in Tamil Nadu, urging her to ensure the safety of Kannada speaking people living in the state. He also urged the Tamil Nadu authorities to take action against those indulging in violence.
Modifying its 5 September order, the apex court yesterday asked the Karnataka Government to release to release 12,000 cusecs of Cauvery River water every day to Tamil Nadu till 20 September.
It had earlier directed the Karnataka Government to release of 15,000 cusecs of water for 10 days as immediate relief to farmers in Tamil Nadu.
--ANI