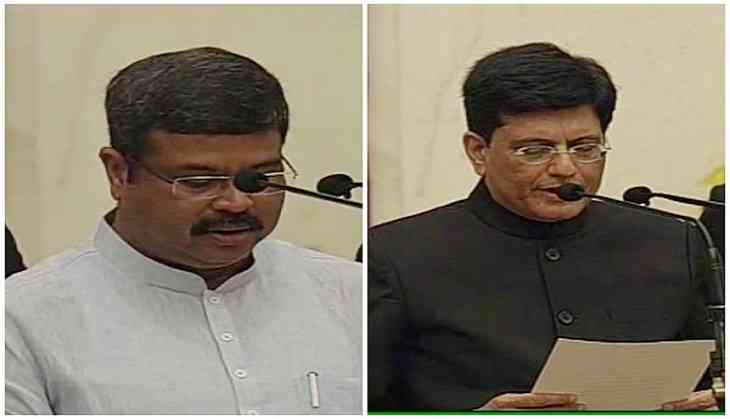 The mega Cabinet reshuffle on Sunday morning saw the promotion of as many as four Ministers of State to the rank of Cabinet ministers.
Dharmendra Pradhan, the Minister of State for Petroleum and Natural Gas, and Mukhtar Abbas Naqvi, the Minister of State for Parliamentary Affairs, took the oath as the Cabinet ministers at the ceremony held at the Rashtrapati Bhavan.
Pradhan is known to have spearheaded one of Prime Minister Modi's main schemes - the "Give it Up" plan for people to forego subsidised cooking gas or LPG voluntarily.
Beside managing to maintain ties with the Opposition parties, Naqvi has done wonders for the Union Government as the spokesperson in the Parliament and outside.
Nirmala Sitharaman, serving as the Minister of State (Independent Charge) for the Ministry of Commerce and Industry as well as a Minister of State for Finance and Corporate Affairs under the Ministry of Finance headed by Arun Jaitley, also took the oath.
Sithraman had travelled to China for a BRICS meeting, in the middle of a lengthy standoff at the border over Doklam.
Piyush Goyal, the Minister of State with Independent Charge for Power, Coal, New and Renewable Energy and Mines, was also sworn-in as the Cabinet minister. He had brought about a turnaround in power production and delivered on the government's plan to electrify villages.
Other ministers who were handed over bigger responsibilities are:
-Shiv Pratap Shukla
He is a Rajya Sabha MP from Uttar Pradesh. He is a Member of the Parliamentary Standing Committee on Rural Development.
A Law Graduate with an LLB from Gorakhpur University, Shiv Pratap Shukla started off early in politics as a student leader in the 1970s.
-Ashwini Kumar Choubey, who is a Lok Sabha MP from Buxar, Bihar
Choubey is member of the Parliamentary Committee on Estimates and Standing Committee on Energy.He is also a Member of Central Silk Board.
-Virendra Kumar, a Lok Sabha MP from Tikamgah, Madhya Pradesh
Kumar has had a distinguished career in Public Service as a 6 term Lok Sabha MP. Highly qualified academically, VirendraKumar is armed with an MA in Economics and a PhD in Child Labour.
-Anant Kumar Hegde, a Lok Sabha MP from Uttara Kannada, Karnataka
Hegde is a Member of the Parliamentary Standing Committee on ExternalAffairs and Human Resource Development.
-Raj Kumar Singh
Singh is a Lok Sabha MP from Arrah, Bihar. He is a Member of the Parliamentary Standing Committees on Health and Family Welfare, Personnel, Pensions and Public Grievances and Law and Justice. Raj Kumar Singh is a former IAS officer of the 1975 batch, Bihar cadre. He rose up the ranks to becomethe Home Secretary of India.
-Hardeep Puri
Puri is a decorated former IFS officer of the 1974 batch, known forhis experience and expertise in foreign policy and national security. He is the President and Chairman of Research and Information System for Developing Countries (RIS) think tank, and was the Vice President of International Peace Institute, New York.
-Gajendra Singh Shekhawat
Shekhawat is a Lok Sabha MP from Jodhpur, Rajasthan. He is a Member of the Parliamentary Standing Committee on Finance and Chairperson of the Fellowship Committee. As a technology-savvy, progressive farmer; Gajendra Singh Shekhawat is a role model for the rural community. He has an MPhil & MA in Philosophy from Jai Narain Vyas University, Jodhpur.
-Satya Pal Singh
Singh is a Lok Sabha MP from Baghpat, Uttar Pradesh. He is a Member of the Parliamentary Standing Committee on Home Affairs and Chairperson of the Joint Committee on Offices of Profit. He is a distinguished former IPS officer of the 1980 batch, Maharashtra cadre, and has been recognised with medals like the Antrik Suraksha Sewa Padak a Special Service Medal. Born in Basauli village in Baghpat, Satya Pal Singh has a MSc and MPhil in Chemistry, MBA in Strategic Management from Australia, MA in Public.
-Alphons Kannanthanam, a distinguished former IAS officer of the 1979 batch, Kerala cadre
Kannanthanam is also a practicing advocate. He became famous as Delhi's Demolition Man when he was Commissioner of the Delhi Development Authority, having cleared DDA areas of encroachment removing around 15,000 illegal buildings. This got him listed in Time Magazine's list of 100 Young Global Leaders in 1994.
Kannanthanam retired from the IAS, to get elected as an Independent Member of Legislative Assembly for Kanjirappally in Kerala from 2006 to 2011.
There are 49 parties under the National Democratic Alliance (NDA) umbrella today, most of which did not find a place in the new team.
Unhappy over this, the Shiv Sena, Bharatiya Janata Party's (BJP) ally in Maharashtra, and the Janata Dal (United) (JD(U)), the ally in Bihar, did not participate in the oath ceremony.
Prime Minister Modi is scheduled to leave for China wherein he would attend the BRICS Summit.
-ANI