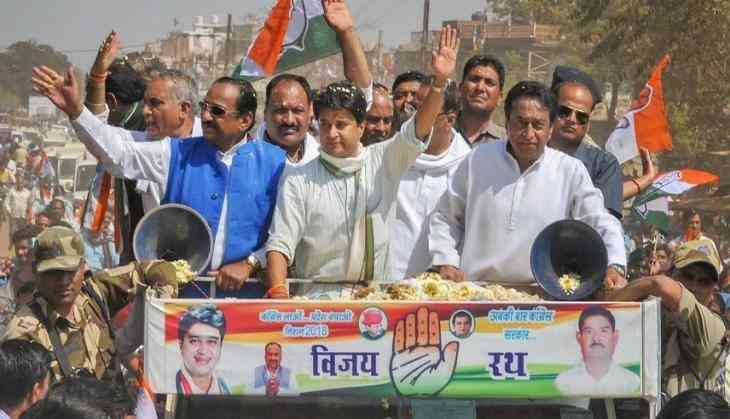 The close war is set between the ruling party BJP and the opposition party Congress for the by-elections in Madhya Pradesh's Mungaoli and Kolaras Assembly. After ten rounds, the Congress Mahendra Singh Yadav is leading BJP's Devendra Jain by over 3,000 votes Kolaras. While In Mungaoli Congress Brijendra Singh Yadav is ahead of ruling parties Bai Sahib by 3500 votes.
Meanwhile, in Odisha's Bijepur Assembly bypoll, BJD's (Biju Janata Dal) Rita Sahu won the battle against BJP and Congress with a margin of 41,933 votes. Post 15 years the BJD won the Odisha assembly and after 21st and final round- BJD's candidate Rita Sahu was polled 102871 votes, Congress candidate Pranay Sahu manage to secure only 10274 votes, while BJP's Ashok Panigraphy won 60938 votes.
However, The EC is yet to officially announce the victory of BJD candidate in Odisha Assembly. As it is cleared that Rita Sahu's is thumping victory, Odisha CM Naveen Patnaik thanked the voters for their support.
Patnaik said, " I would like to express my deep gratitude to the people of Bijepur Assembly constituency for having showered their blessings on BJD."
The by-poll in Odisha's Bijepur was necessitated due to death of Congress MLA Subal Sahu. BJD candidate Rita Sahu, Pranay Sahu of Congress and BJP's Ashok Panigrahi are in the fray.
As after sixth round the Congress leads in MP's Mungaoli by 2,652 votes, CM Shivraj Singh Chouhan said, "We have put up a spirited fight in Kolaras and Mungaoli. Let the results come. Both have been Congress seats."
Earlier, CM Shivraj's son Karthikey hit out at opposition party Congress leader Jyotiraditya Scindia for calling his father a 'Kaurava', a reference to the Mahabharata's primary antagonist Duryodhana and his band of brothers.
Also read: Vodafone to counter Reliance Jio with its new Rs 199 prepaid plan