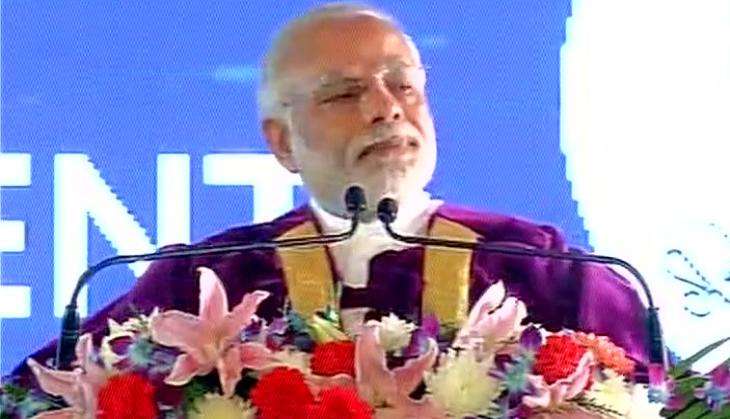 Prime Minister Narendra Modi inaugurated the five-day 104th Indian Science Congress and addressed a gathering of eminent scientists, including five Nobel laureates at the Sri Venkateswara University in Tirupati.
While addressing the gathering on Tuesday, PM Modi said that by 2030, India will be among the top three countries in science and technology.
"By 2030, India will be among the top three countries in science and technology. Science must meet the rising aspirations of the people," he said.
"Our ministries, our scientists, our R&D institutions and IITs should work together seamlessly. Our infrastructure and socio-economic ministries must make appropriate use of technology," PM Modi added.
"We should involve foreign and NRI students in post-doctoral research," he recommended, adding, "if you want science to deliver, we must build a strong scientific infrastructure."
"We must create an environment for sharing of idea and resources. The brightest and best in every corner of India should have the opportunity to excel in science," Prime Minister Narendra Modi said.
While saying that he was happy inaugurating the 104th session of the Indian Science Congress, PM Modi said, "The nation will always be grateful to the scientists who have worked to empower the society. In November 2016, the country lost one such eminent scientists Dr MGK Menon."
"The speed and scale of changes today are unprecedented," PM Modi said. "Tomorrow's experts will come from investments we make today in our people and infrastructure," he said.
This is the second time that Tirupati is hosting the Indian Science Congress. In 1983, the 70th ISC was also held in Tirupati.
According to reports, around 15,000 delegates are expected to be part of the five-day ISC.
Ever since BJP came to power in 2014, the ISC has been criticised for exercising less serious science and making more claims about the glories of ancient India.