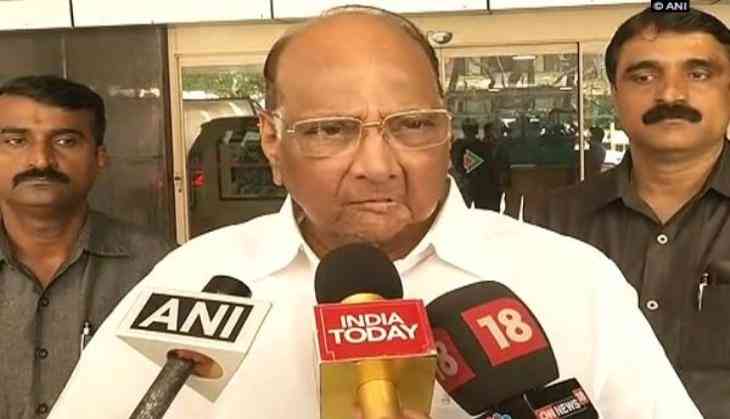 National Congress Party (NCP) supremo Sharad Pawar has said, with the introduction of bullet train project, nobody will go to Ahmedabad, rather Mumbai will be overcrowded, adding nothing can break off Mumbai from Maharashtra.
Pawar's statement comes after Maharashtra Navnirman Sena (MNS) president Raj Thackeray, during a conversation with Pawar, asked whether the proposed bullet train was intended to break off Mumbai from Maharashtra.
"I feel it is a plan to separate Mumbai from Maharashtra," Thackeray asked Pawar, in an interview session organised by Jagtik Marathi Academy here, to which the latter replied, "Nobody will go to Ahmedabad but Ahmedabad people will come to Mumbai and the crowd will increase. Even if you come down from there nobody can break Mumbai from Maharashtra".
When Thackeray asked if is 'risky' to be truthful in politics, the NCP leader replied, "It is imperative to be truthful in politics, but when there are difficulties, it's better to keep quiet".
Thackeray further questioned, why does Prime Minister Narendra Modi take all foreign leaders only to Gujarat and "why cannot he show them all other states, including Maharashtra?"
Pawar replied, "The Prime Minister has the ability to work hard. But running a state and the governing of a country are two different things. For managing the country, you need a team, which is lacking here".
Prime Minister Modi's dream project of the bullet train is underway in Mumbai Thane, and the under the sea tunnel may complete by August 15, 2022.
The bullet train between Ahmedabad and Mumbai will run a total length of 508 km, of which 21 km will be covered in the tunnel under the sea.
The cost of the tunnel is estimated at Rs 3,500 crores.
The cost of the total train project is Rs 1.10 trillion, and Japan is giving a loan of Rs. 88,000 crores for the same at a minimal interest of 0.1 percent, which has to be repaid over 50 years.
--ANI