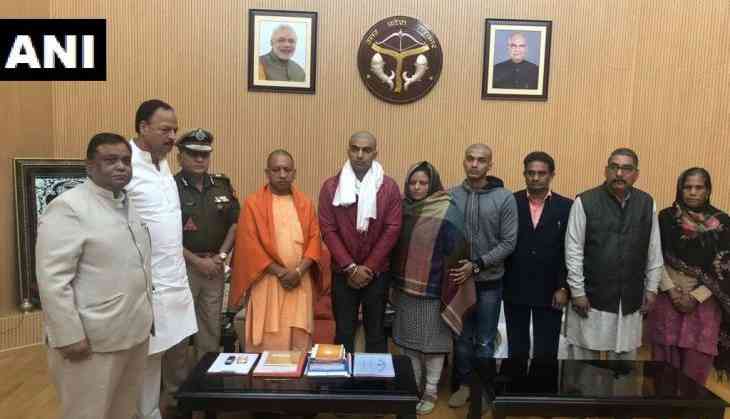 Family of slain cop Subodh Singh with Yogi Adityanath
After the mob lynching and violence in Bulandshahr over the meat of "cattle," the family of slain inspector Subodh Kumar Singh has met UP CM Yogi Adityanath today.
At the residence of chief minister, the entire family has demanded justice for their lone bread earner and the CM has in return assured the family of justice and full support in the entire process.
The investigation had begun and an SIT was formed under the supervision of DGP OP Singh and the administration has given 50 lakhs to the family and a government job to one family member.
UP DGP OP Singh has today said that, "Family of martyred Inspector Subodh Singh ji met Chief Minister today and CM assured the family of justice. A high level probe has also been ordered."
Shrey Pratap Singh, the son of slian inspector Subodh Singh today met with his family the UP CM at his residence in Lucknow and said, "We met the Chief Minister and he has assured us that we will get justice."
#Lucknow: Family of Inspector Subodh Singh met Chief Minister Yogi Adityanath and UP DGP OP Singh at CM residence. #BulandshahrViolence pic.twitter.com/orQCqVAsUn

— ANI UP (@ANINewsUP) December 6, 2018
The member of parliament Bhola Singh from Bulandhshar has said in the matter that "I have come across a video where a policeman is saying that protesters became violent only after police resorted to lathicharge. Why such situation arose that general public was lathicharged, rather than being made to understand the situation?"
Now, the government of Uttar Pradesh has initiated another step wherein the Jaithari-Kuraoli road leading to village of late police Inspector Subodh Kumar Singh in Etah has been renamed to 'Shri Subodh Kumar Singh Shahid Marg.
Yet, the main accused Yogesh Raj, the unit chief of Bajrang Dal is on run and the investigation is on.
Also read: 26 years of Babri Masjid demolition: Security tightened in Ayodhya as the Mandir pitch of RSS, VHP rises
Shrey Pratap Singh, son of Police inspector Subodh Singh: We met the Chief Minister and he has assured us that we will get justice #BulandshahrViolence pic.twitter.com/ezL2MBqTAy

— ANI UP (@ANINewsUP) December 6, 2018