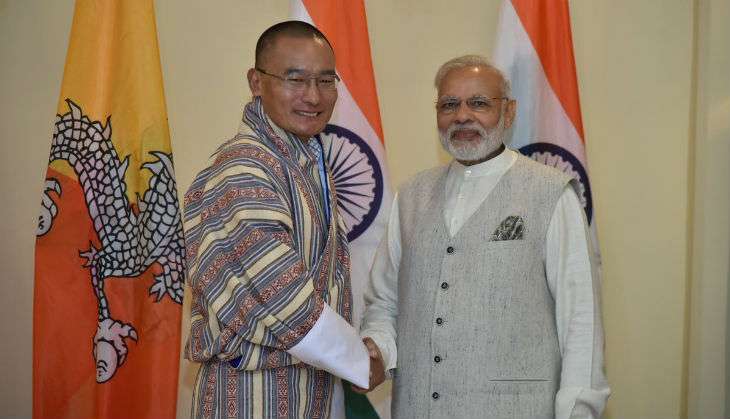 Prime Minister Narendra Modi held a bilateral meet with Bhutan Prime Minister Tshering Tobgay on 16 October ahead of the BRICS-Bimstec Outreach Summit in Goa.
Earlier in the morning, PM Modi and Sri Lankan President Maithripala Sirisena held a bilateral meeting. Sirisena arrived in Goa on Saturday night.
"A friend comes to India...glad to have President @MaithripalaS visit India for the BRICS-BIMSTEC Outreach Summit," Prime Minister Narendra Modi tweeted soon after Sirisena landed at Dabolim Airport.
Here is a look at BRICS schedule of Day 2:
09.15-09.45 - Meeting with the President of Sri Lanka
09.45-10.15 - Meeting with Prime Minister of Bhutan
10.30 - Arrival of Prime Minister of Bangladesh
10.30 - BRICS Summit Welcoming Ceremony
10.40 - Group photo of BRICS Leaders
10.45-11.50 - BRICS Leaders' Restricted Session Meeting
11.30 - Arrival of State Counsellor, Minister for Foreign Affairs and President's Officer of Myanmar
Lunch session:
12.00-13.00 hrs BRICS Leaders' Restricted Working luncheon
13.05-13.30 - BRICS Leaders Meeting with the BRICS Business Council and Briefing by NDB President
13.30-14.30 hrs BRICS Leaders Plenary Session
14.35-15.00 - Signing Ceremony & Press Statement by Prime Minister of India
15.35-16.30 - Arrival Ceremony of BIMSTEC Leaders, Group Photo op & BIMSTEC Retreat
16.50-1700 - Arrival Ceremony for the BRICS Leaders'
17.00 - Group Photo of BRICS & BIMSTEC Leaders
17.00-18.30 - BRICS - BIMSTEC Outreach Summit
18.30-20.00 - BRICS and BIMSTEC Leaders' Summit Dinner Reception
20.15-20.45 - Meeting with Prime Minister of Nepal
21.00-21.30 - Meeting with Prime Minister of Bangladesh
21.30 - Departure of President of the Russian Federation