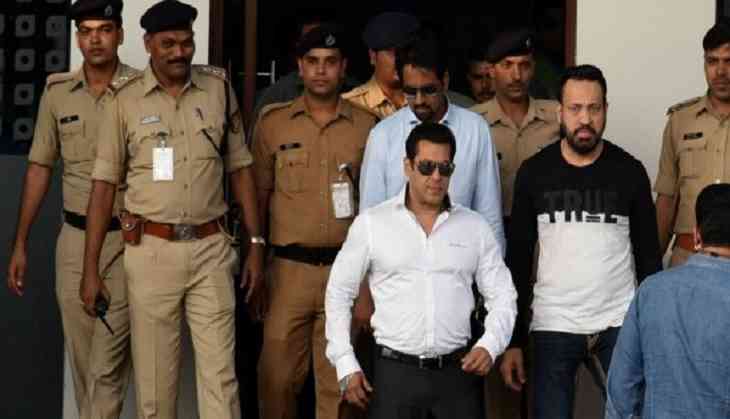 The judgement on one of the most high profile case likely to announce today in the Jodhpur court i.e. blackbuck poaching case. The case is high profile because of Bollywood actors Salman Khan, Tabu, Saif Ali Khan, Sonali Bendre and Neelam Kothari, all were involved in hunting the blackbucks. The incident occurred in 1998 during the shooting for the film Hum Saath - Saath Hain. Salman Khan reaches court accompanied by his bodyguard Shera. Besides Salman Khan, Saif Ali Khan, Sonali Bendre and Neelam Kothari also reached to the court.
Apart from killing the endangered wild animal, another case was also charged against Salman Khan for the possession of expired licenses firearms. As the verdict has to be announced today, therefore, actors have already reached Jodhpur.
The incident occurred when Salman Khan had starred in Sooraj Barjatya movie Hum Saath - Saath Hain. However, Salman Khan has been accused of killing two blackbucks on 2 October 1998 in Kankani village in Jodhpur.
Well, the case trial has been in progress for the last 19 years and Judge Dev Kumar Khatri reserved the order after the final arguments on March 28. If Salman found guilty in the case, who has been charged under Section 51 of Wildlife (Protection) Act, then he would face 6 years of imprisonment.
As per the reports, after arriving at the city, Saif Ali Khan lands in the controversy as he was heard to threaten his driver after he was surrounded by media. Saif was heard telling to his driver, 'Sheesha upar karo aur reverse kar lo varna padegi ek.'
Jodhpur: Police personnel deployed outside Jodhpur court ahead of verdict in Blackbuck poaching case. Saif Ali Khan,Neelam & Sonali Bendre's lawyer says,'if they are found guilty then there is equal punishment for all. Maximum punishment will be for six years & minimum one year.' pic.twitter.com/omRMnr3Weh

— ANI (@ANI) April 5, 2018
Earlier in 2006, Salman Khan was convicted in the case and also sentenced to five years in jail. After spending a week in jail, the punishment was suspended by the Rajasthan High Court. The charges on 'Race 3' actor were dropped later due to the lack of evidence.