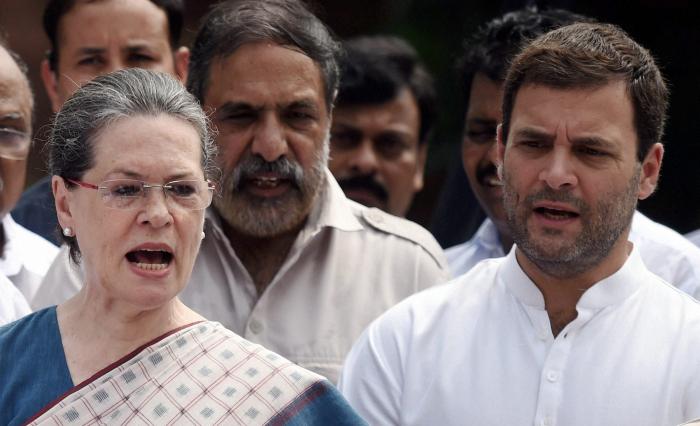 BJP hits back at Sonia Gandhi and Rahul Gandhi for their attack on Sushma Swaraj on 7 August. Sonia Gandhi had called Sushma an "expert in theatrics" while BJP took a dig at Congress dynastic politics.
BJP fielded Union Minister Smriti Irani to defend the External Affairs Minister as well as Lok Sabha Speaker Sumitra Mahajan and attack the top Congress leaders on a day the verbal duel between the two parties escalated with both Sonia and Rahul Gandhi making sharp comments against Swaraj over the Lalit Modi controversy.
Taking a swipe at the Gandhi dynasty over their attack on Swaraj and the Speaker, she suggested both of them came from normal families."People in this country know that a woman coming from a normal family has to toil hard to make a space for herself in the society and its economy. It is generally seen that children of such women also work hard. Congress may have an exception in the Gandhi family where they don't have to sweat it out in the sun to earn their livelihood. I completely deny their charges," she said.
Noting that the "boys of Congress" removed their shirt to protest "naked" against the Speaker's decision to suspend 25 Congress members from Lok Sabha, Irani wondered if this was the value Rahul wanted Congress to absorb.To a question on the attack of Gandhis on Swaraj, she shot back asking if they wanted to say that Parliament had become a theatre by terming her statement in Lok Sabha as "drama". "Such a statement is disrespect to the dignity of Parliament. Congress party especially Rahul Gandhi should not work to reduce Parliament's respect," she told reporters here.
She also attacked Congress for its criticism of the Naga peace accord and opposition to the GST bill, saying the former was historic as far the country's internal security was concerned while GST would led to economic revolution.
-PTI