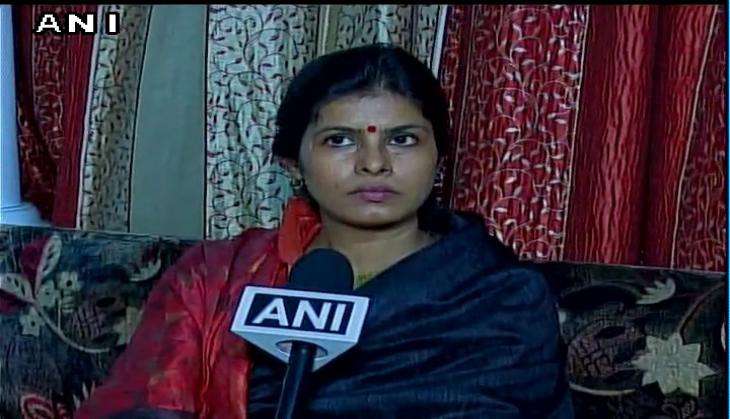 Former BJP UP vice president Dayashankar Singh's controversial statement has not just landed him in trouble, but his family as well. The family has alleged mental harassment by BSP workers. Dayashankar's wife told the media that she would file a case against Mawawati for inflicting mental trauma on her 12-year-old daughter, who she claims was targeted by protesting BSP workers.
Will lodge an FIR against Mayawati ji over the mental trauma faced by my family: Swati Singh, Dayashankar's wife pic.twitter.com/Q89LMW3yck

— ANI UP (@ANINewsUP) July 22, 2016
BSP workers have been protesting outside Dayashakar's residence, though it is reported that his family has moved to an undisclosed place for the moment.
According to his wife, Swati, as she hasn't been able to contact her husband, she and her daughter are fighting the nasty barbs on their own.
BSP supremo Mayawati, however, has justified her party worker's behaviour. Here's what she told ANI.
my people said Dayashankar's wife, daughter, mother were silent when I was insulted so they were angered to make them see truth: Mayawati

— ANI (@ANI_news) July 22, 2016
Swati, who acknowledges the fact that his husband made a derogatory statement by calling Maywati a prostitute, told the media that similar language was being used by BSP workers against her and her pre-teen daughter. While talking to the media, she said that her daughter hasn't been able to go to school ever since the incident as she is scared that something may happen if she steps out.
"If the same words can hurt Mayawatiji, why will they not hurt us? Particularly my daughter... She has gone through acute mental trauma after she heard the nasty words inflicted on her," The Times of India quoted her as saying. She says her daughter was taking sleeping pills now.
Swati is unhappy with the manner the party suspended her husband for his comment "after serving the party for 25 years". She said the law would take its own course. "He has been punished four times for one crime," she told IBN 7.