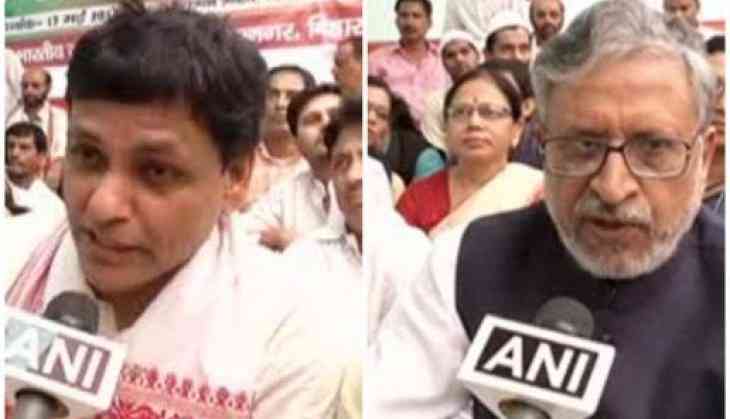 Senior BJP functionary and leader of opposition in legislative council Sushil Kumar Modi on 17 May said the attack on the Bharatiya Janata Party (BJP) workers by the Rashtriya Janata Dal (RJD) supporters was 'shameful' and alleged that it was orchestrated by Nitish Kumar-led state government to 'gag' the voice of the opposition.
"The BJP office is located in a prohibited area and due to this we were not given permission to hold our protest dharna today in front of our party office. Then how were hundreds of RJD goons allowed to stage protest and throw stones at us? Under the police this shameful act took place. Why didn't the police stop them? Why did they allow the procession to take place? It means that govt. is giving protection to such people. And if Nitish Kumar thinks that with such kind of thing we they can stop us then it is not possible," he told ANI while staging a dharna at Gardanibagh in Patna when the scuffle took place.
Demanding RJD chief Lalu Prasad Yadav' sons Tejaswi Yadav and Tej Pratap Yadav's expulsion from their post, Kumar said, "When the violence was happening at the BJP office, Chief Minister Nitish Kumar was sitting in a state-level bankers committee meeting at a short distance."
Condemning the incident, BJP state president Nityanand Rai said it was a 'cowardly attack'.
"It is a cowardly attack. It is an attack under the influence of Lalu Prasad Yadav. It only provs that there are criminals in the party. We will seek justice under law because we believe in law. We will knock the door of law. .Nitish Kumar should answer this. And we will never tolerate such acts," he added.
A day after the Income Tax Department conducted raids in New Delhi and adjoining areas in connection with alleged benami land deals linked to the RJD chief, his daughter and sons, a clash broke out between workers of the RJD and the BJP in Patna earlier today.
Over hundreds of RJD workers, protesting against the I-T raids, took out a procession from outside the BJP office. Soon workers of both parties were seen throwing stones and bottles at each other. Some of them were wielding lathi (baton) in their hands, where several people were injured in the scuffle that took place outside the BJP office
-ANI