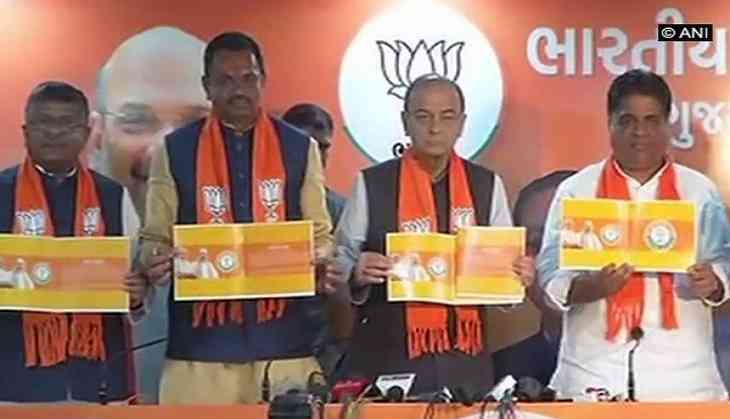 The Bharatiya Janata Party's (BJP) on Friday released the election manifesto named 'sankalp patra' (vision document) for Gujarat a day before the first phase of election.
At the event, Union Finance Minister Arun Jaitley said the BJP ruled Gujarat has the highest Gross State Domestic Product (GSDP) growth in India.
"Gujarat's GSDP growth is highest in India. In the last five years, Gujarat grew at an average rate of 10 percent amongst large states," Jaitley said while unveiling the vision document in Ahmedabad.
Continuing his tirade against the Opposition, he said, "Congress' vision for Gujarat is based on constitutional impossibility and financial improbability."
The BJP also asserted that the Congress was making false promises in Gujarat.
The minister said: "The BJP aims to ensure unity in the state and work towards the welfare of all groups."
Besides, social polarisation would only hurt the Congress, he added.
Gujarat has a total number of 182 assembly seats and the polling will be held in two phases.
Voting in 89 constituencies of Saurashtra and South Gujarat region will be held in the first phase, while the remaining 93 constituencies in Central and northern regions go for polls in the second phase.
The second phase of polling in the state is scheduled on December 14 and counting of the two-phase election is slated on December 18.
-ANI