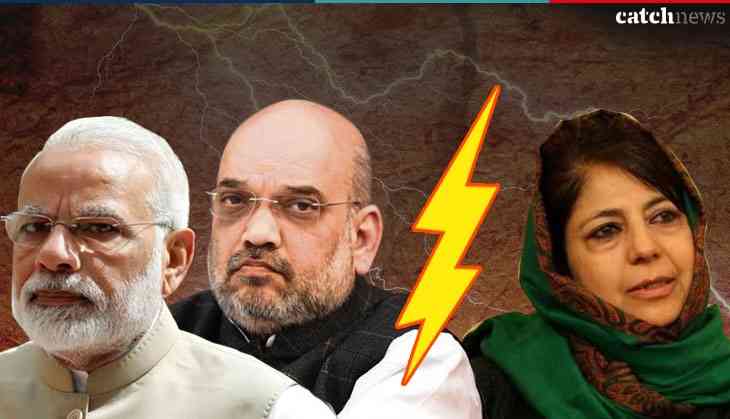 The BJP has pulled out its alliance with the Mehbooba Mufti's PDP or People's Democratic Party in Jammu and Kashmir. Mufti, minutes after BJP ended the allaince with PDP, submitted her resignations to Governor, Narinder Nath Vohra. In a press meet, Mufti said she can't treat Jammu and Kashmir as 'enemy territory'.
"Jammu and Kashmir is not an enemy territory, we can't have a muscular policy here. During Ramzan ceasefire peace returned to the valley," says Mehbooba Mufti talking to reporters in Srinagar.
"I am not shocked. We didn't do this alliance for power. This alliance had a bigger motive- unilateral ceasefire, PM's visit to Pakistan, withdrawal of cases against 11,000 youth: Mehbooba Mufti in a press meet after BJP pull-off with PDP.
I submitted my resignation (as J&K CM) to the Governor & told him that we are not looking to explore any other alliance: Mehbooba Mufti #JammuAndKashmir pic.twitter.com/anBjELouAK

— ANI (@ANI) June 19, 2018
According to reports, the rift between the two parties widened following the central government's decision to resume anti-terror operations in the state after Ramzan.
We have taken a decision, it is untenable for BJP to continue in alliance with PDP in Jammu & Kashmir, hence we are withdrawing, said BJP lawmaker Ram Madhav in a press conference.
The PDP of Chief Minister Mehbooba Mufti asserted that the Centre needed to reach out to the separatists, reports NDTV. The Centre argued that the separatists lost an opportunity as they did not take a cue from civil society, the sources said.
On the eve of Eid, senior journalist Shujaat Bukhari was shot dead by terrorists in Srinagar and Indian Army Gunmen Auranzeb was also abducted and murdered by the terrorists. With it, any faint hope of an extension of the ceasefire ended.
In a series of tweets on Sunday, Union home minister Rajnath Singh announced that security forces have been directed to resume operations.
Also read: Jammu and Kashmir: After BJP ends alliance with PDP, Mehbooba Mufti resigns as chief minister of the state; press meet at 4 pm