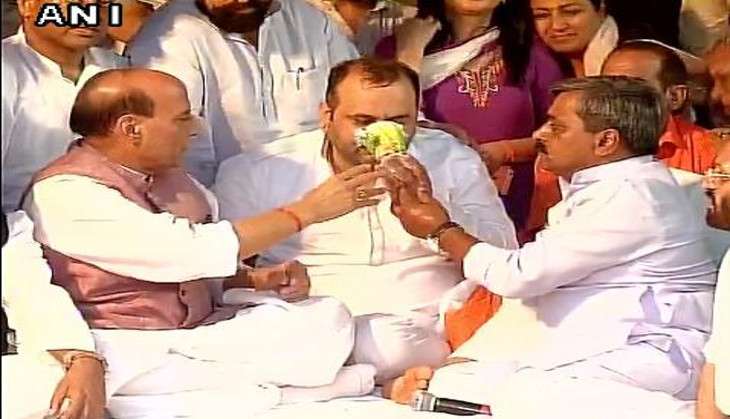 Bharatiya Janata Party (BJP) MP Mahesh Girri, who was protesting outside Delhi Chief Minister Arvind Kejriwal's residence since 19 June, ended his hunger strike on 21 June in the presence of Home Minister Rajnath Singh.
Rajnath Singh had visited Girri on 21 June requesting him to end his hunger strike and also promised an impartial probe in the MM Khan murder case.
The BJP lawmaker from East Delhi sat on a hunger strike on Sunday evening outside the residence of CM Kejriwal and said that the Delhi CM has levelled baseless allegations about his involvement in the murder of NDMC office MM Khan.
Girri had also asked Kejriwal for a public debate over his allegations.
Girri was quoted by ANI as saying, "I challenged Kejriwal for debate; it's been three days. He didn't turn up so it's their loss. I'm going to end my hunger strike today."
Khan was shot dead in Jamia Nagar on 16 May, a day before he was scheduled to pass the final order on the lease terms of a hotel which was functioning on a property leased out by the civic body.
--With ANI inputs