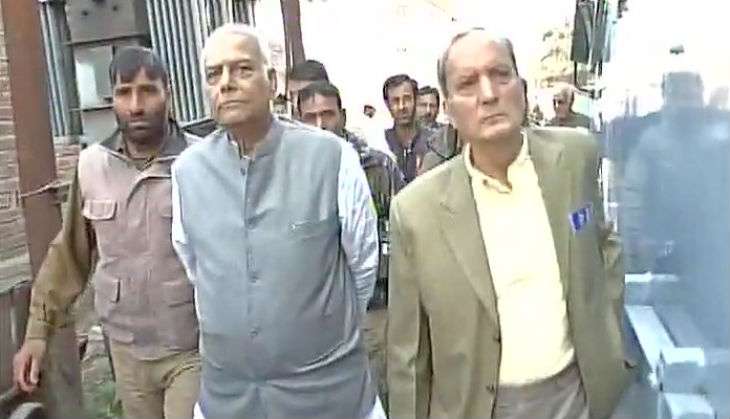 A five-member civil society delegation led by senior BJP leader Yashwant Sinha today met hardline Hurriyat leader Syed Ali Shah Geelani here in an attempt to break the three-month impasse in Kashmir, triggered by the killing of Hizbul Mujahideen militant Burhan Wani in July.
The delegation led by Sinha called on Geelani at his residence in Hyderpora area of the summer capital, Srinagar.
Before meeting Geelani, Sinha told reporters that they had not come as a delegation.
"We are few people of goodwill who have come here on the basis of humanity. The aim is to share the pain and sufferings of the people. If we can do that, we will consider ourselves fortunate," he said.
Asked if the team will be meeting other separatist leaders like Mirwaiz Umar Farooq and Mohammad Yasin Malik, Sinha said they are trying to meet everyone.
In response to a question about timing of the visit, the former Finance Minister said, "That is an eternal question why did you not do it before. We are doing it at a time which is quite appropriate."
Asked if they had been invited by the separatists, Sinha said, "We do not have an invitation (from Geelani). We had requested (for a meeting) and we are going to see him."