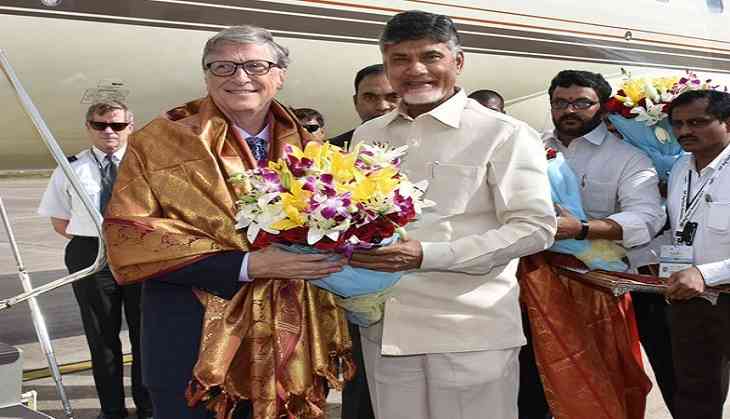 Microsoft co-founder and philanthropist Bill Gates has lauded the Andhra Pradesh government for using technology to help farmers in the state.
"Andhra Pradesh is taking bold steps. I expect we will be accelerating it (technology usage). More than half of India's population in engaged in agriculture, and three-fourths of rural women are engaged in agriculture. Apart from gender equality, research has shown that having more women also increases production by 20 to 30 percent," Gates said at the valedictory session of the AP AgTech Summit-2017.
Gates also noted that the growth in economy will not only lead to a higher Gross Domestic Product (GDP), but also lift people out of poverty.
"First, we can turn the largest economic sector in the country into a source of growth instead of a drag on the economy. Secondly, we can make sure that growth is inclusive and that it not only leads to a higher GDP but also lifts people out of poverty. Third, we can produce enough nutritious food to spurt a healthy and well educated labor force for the future, when the Indian economy will depend even more on highly skilled workers," he added.
Andhra Pradesh Chief Minister N Chandrababu Naidu was also present in the summit.
Naidu requested help from Bill and Melinda Foundation in agriculture, nutrition and health.
Gates further said, "Two examples that I am very impressed with; one is the Mega Seed Park, which really is the first of its kind and it will make available lots of high quality seeds and coupled with that is the new EC distribution application, D Krishi, which will help farmers access quality seeds in a timely manner and ensure that the government's resources are being widely used. These are the kind of innovations that will help achieve the Chief Minister's goal of sustained double digit economic growth in Andhra Pradesh over the next decade."
Gates, who landed in Visakhapatnam on Friday, visited the exhibition stalls in the summit along with Andhra Pradesh chief minister.
The summit focused on innovative ideas, technologies and global best practices to push agricultural transformation in the state.
This three-day global event was organised by the Andhar Pradesh Government in association with Bill and Melinda Gates Foundation, Confederation of Indian Industry (CII) and Dalberg Advisors.
More than 1,500 global leaders from 61 countries including business heads, start-up founders, leading policymakers, progressive farmers, NGOs, agriculture and technology experts participated the summit over three days.
-ANI