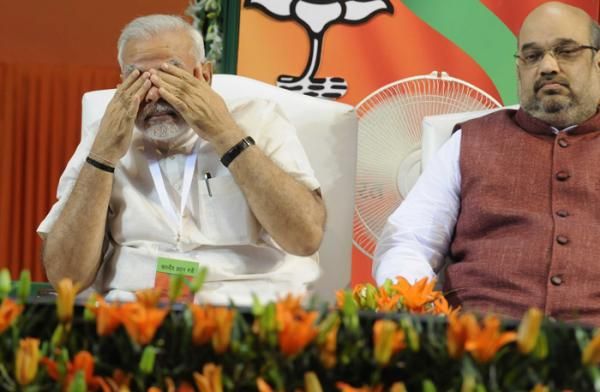 With the trends showing a clear mandate for Chief Minister Nitish Kumar, congratulatory messages are coming from all quarters. When Prime Minister Narendra Modi called up Kumar, who is set to be the Chief Minister for the third consecutive year, it became clear that the BJP has conceded defeat.
Just received a phone call from the Prime Minister congratulating me.

- Nitish Kumar (@NitishKumar) November 8, 2015
BJP leader Sushil Modi too congratulated Kumar, while saying that the party accepts the people's mandate.
Congratulations to Laluji & Nitishji for this victory in Bihar elections. We bow before people's mandate: Sushil Kumar Modi, BJP

- ANI (@ANI_news) November 8, 2015
Earlier Mukhtar Abbas Naqvi and Ram Madhav too had given similar statements, indicating that the BJP had no hope of bouncing back, even another couple of hours of counting still remains. The Election Commission had said that final results will be out by 2 pm, today.
Modi also was the chief campaigner of the BJP, holding as many as 40 rallies across the state, while his confidante and BJP President Amit Shah was the chief strategist and the brain behind ticket distribution for the elections. According to the latest trends being shown by the channels the Mahagathbandhan is leading on over 155 seats. According to the Election Commission data, JD(U) is leading on 69 seats. RJD, according to the EC website is leading on 77 seats. The Mahagathbandhan needs 122 seats to form government in the 243 member Bihar Assembly.